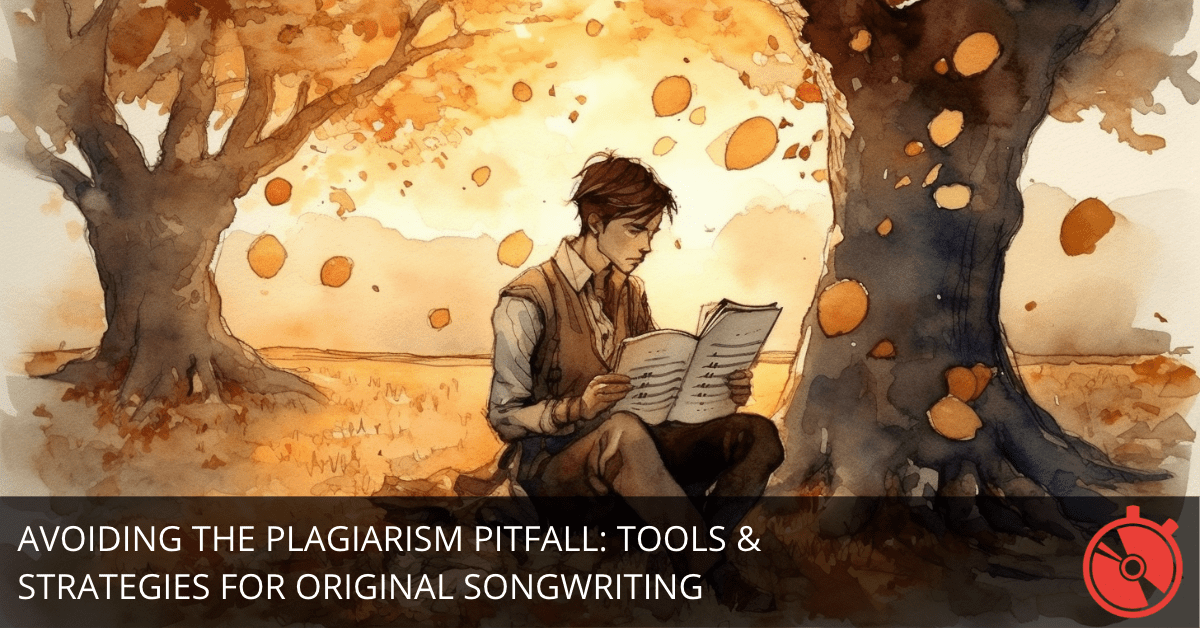 Understanding Musical Plagiarism
Let's dive straight into the deep end - what is musical plagiarism?
It's the unauthorized use or imitation of another's music composition.
From The Beatles being accused of "borrowing" Chuck Berry's melody in "Come Together" to the infamous lawsuit of Robin Thicke's "Blurred Lines" – plagiarism is no stranger in the music world.
Here's the reality.
The ramifications aren't pretty. They range from hefty financial penalties to damaging blows to reputation and even career-ending lawsuits.
Think back to the 'Blurred Lines' lawsuit that cost Robin Thicke and Pharrell Williams a whopping $7.4 million in damages.
The Line Between Influence and Plagiarism
So, where does influence end and plagiarism begin? How can you avoid stepping over the line?
Remember that "musical influence" doesn't mean a carbon copy. It's like using the same colors as Van Gogh's "Starry Night" in your painting - not recreating the entire masterpiece.
You can learn from your musical heroes' chord progressions, rhythms, and lyrical styles without replicating their work.
Unfortunately, the line between inspiration and imitation is often blurred. If you're rehashing the same chord progression, melody, and rhythm as your favorite song, you've crossed over into the land of plagiarism.
Strategies for Avoiding Unintended Musical Similarities
Now, let's discover the art of avoiding unintentional musical similarities.
Conscious listening and analysis: Listen to music like a detective on a mission. Analyze it. Break it down. Understand why those chords sound amazing together, why that melody tugs at your heartstrings.
Individual creativity and experimentation: Don't just follow the musical rules; create your own. Play around with different chord progressions, experiment with unusual rhythms, and step outside the box of conventional song structures.
Diversifying musical influences: You wouldn't eat just one type of cuisine for the rest of your life, would you? Similarly, expose your musical palate to a variety of genres and styles. It'll make your musical compositions more flavorful and less likely to mirror one specific influence.
Legal Aspects of Songwriting
Let's talk about the legal stuff – the copyright laws that govern the music world.
Copyrights in music give you, as the songwriter, exclusive rights to your creation. It's like having a protective shield around your masterpiece.
And then there's "'fair use," the balancing act between protecting intellectual property rights and promoting creativity. It allows specific uses of copyrighted work, like criticism, commentary, or research, without permission.
However, don't misconstrue this as a green light to plagiarize!
Copyright registration, on the other hand, is like a safety lock on your music. It provides evidence of your ownership and makes it easier to claim damages if someone infringes on your work.
Tips for Keeping Songs Original and Authentic
Using personal experiences: You are a unique individual with unique experiences. Pour them into your songs. Your first heartbreak, your favorite childhood memory, or even your encounter with a quirky character on the subway – they're all song-worthy.
Developing a unique sound: Ever recognized a song from the first note? That's the power of a unique sound. Like seasoning in food, it gives your music its distinct flavor. So, pay attention to your songwriting style, your choice of instruments, and your lyrical themes – they all contribute to your unique sound.
Collaboration in music: Ever seen a superhero team-up movie? That's collaboration in action, bringing together different strengths for a common goal. Similarly, collaborating with other musicians can result in a fusion of ideas and styles, leading to unique and diverse music.
Conclusion
The journey of songwriting is filled with both inspiration and original creation. It's an art of walking the tightrope between embracing musical influences and maintaining your unique sound.
By understanding the landscape of musical plagiarism, employing strategies to avoid unintentional similarities, and navigating the legal labyrinth of songwriting, you can ensure your songs stand out in their originality and authenticity.
Remember, every note you write and every lyric you pen brings something unique to the world of music.
As Pablo Picasso said, "Good artists copy, great artists steal."
In the realm of songwriting, this implies internalizing influences but molding them into something that's unmistakably yours.
---
Frequently Asked Questions:
What is musical plagiarism?
Musical plagiarism is the unauthorized use or imitation of another artist's music composition.
How can I avoid plagiarism in songwriting?
Strategies include conscious listening, promoting individual creativity, diversifying influences, and leveraging technology to detect potential similarities with existing songs.
What is the difference between influence and plagiarism in music?
Influence is taking inspiration from another's work without directly copying it, while plagiarism involves directly copying or imitating musical elements without authorization.
What is the role of copyright in music?
Copyright in music gives the songwriter exclusive rights to their work, protects it from unauthorized use, and allows the copyright holder to take legal action in case of infringement.
How can I maintain originality and authenticity in my songs?
You can maintain originality and authenticity by incorporating personal experiences, developing a unique sound, and collaborating with other musicians to bring diversity to your music.