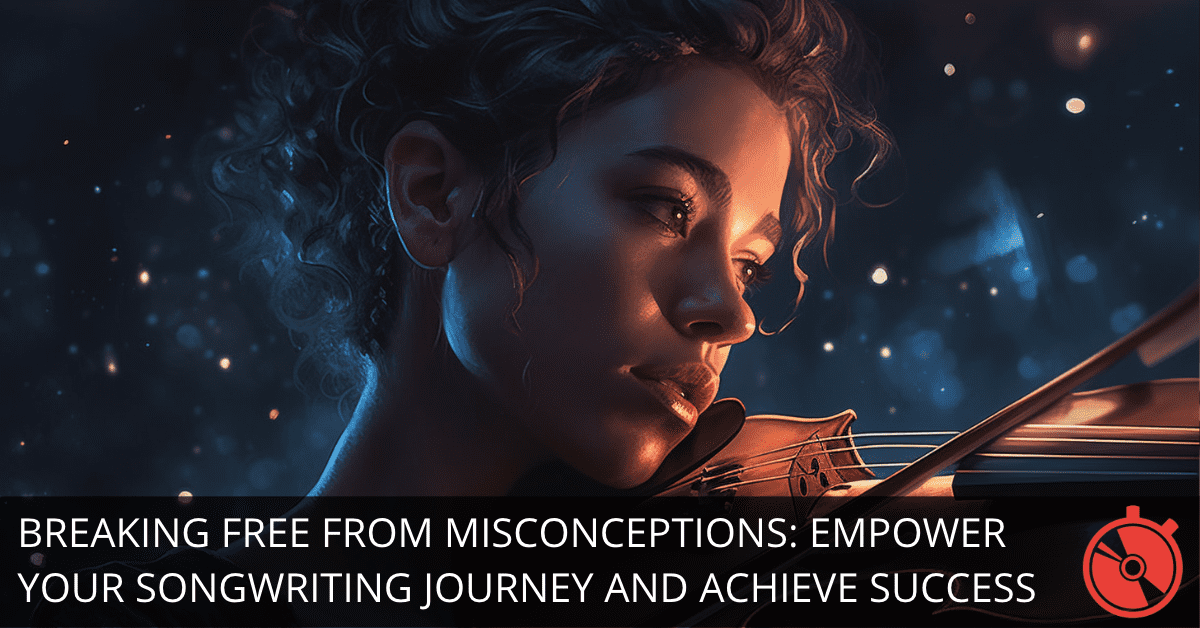 I've coached thousands of songwriters and identified the top four myths that hinder their progress.
Dive into my analysis to break free from these misconceptions and unlock your full potential.
Myth 1: You Need to Be Inspired to Write Great Songs
Contrary to popular belief, waiting for inspiration to strike is not a prerequisite for crafting a captivating song.
Consistently successful songwriters practice their craft and develop discipline, treating songwriting as a skill that can be honed over time.
Embrace the following strategies to stimulate your creativity and improve your songwriting abilities:
Establish a regular routine: Dedicate time each day or week to write and revise your music, regardless of your current level of inspiration.
Experiment with different styles: Broaden your musical horizons by exploring various genres and incorporating diverse influences into your songwriting.
Collaborate with other musicians: Engage in creative exchanges with fellow songwriters and performers to gain fresh perspectives and learn new techniques.
Myth 2: You Must Be a Natural-born Songwriter to Succeed
The notion that successful songwriters possess an innate talent is misleading and discourages aspiring musicians from pursuing their passion.
Like any other skill, songwriting can be learned and improved through dedication, practice, and perseverance.
To enhance your songwriting abilities:
Study music theory: Familiarize yourself with the fundamentals of melody, harmony, and rhythm to create a strong foundation for your compositions.
Analyze successful songs: Examine the structure, lyrical content, and emotional impact of popular songs to identify elements that resonate with listeners.
Seek constructive feedback: Share your work with trusted peers, mentors, or music industry professionals to gain insights on refining your songwriting approach.
Myth 3: You Can't Write a Good Song without a Unique Melody
Although an original melody can contribute to a song's appeal, compelling lyrics, captivating arrangements, and engaging performances are equally important in capturing an audience's attention.
To develop a well-rounded composition:
Focus on storytelling: Craft a compelling narrative through your lyrics that resonate with listeners emotionally.
Experiment with chord progressions: Explore various chord combinations to evoke different moods and complement your song's theme.
Incorporate dynamic arrangements: Vary instrumentation, harmonies, and song structure to create a multi-dimensional listening experience.
graph LR A[Compelling Lyrics] --> B[Captivating Arrangements] B --> C[Engaging Performances] C --> A
Myth 4: Your First Draft Should Be Perfect
Expecting your initial song draft to be flawless stifles creativity and hinders your growth as a songwriter.
Recognize that revising and refining your work is an integral part of the creative process.
Embrace these tips to improve your compositions:
Allow yourself to write "bad" songs: Grant yourself the freedom to experiment and make mistakes, knowing you can refine your work later.
Revise your songs: Regularly review and revise your compositions, focusing on enhancing the melody, lyrics, and overall structure.
Embrace collaboration: Share your work-in-progress with fellow musicians and seek their input on potential improvements.
By debunking these four common songwriting myths and adopting a proactive, disciplined approach to your craft, you can unleash your creativity, develop your skills, and reach your full potential as a songwriter.
Remember, the road to success is paved with perseverance, practice, and a willingness to learn from your triumphs and setbacks.