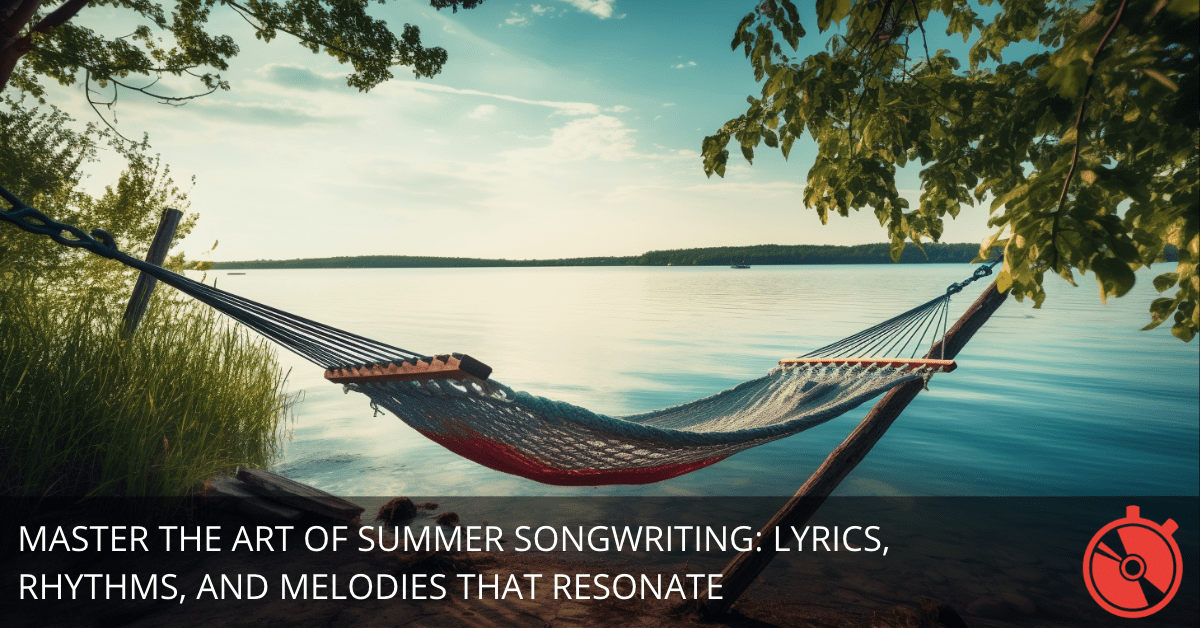 Picture yourself on a sun-soaked beach, with the sound of the waves crashing in the background and the soft, warm sand beneath your feet.
Can you hear it?
That perfect summer song playing on the radio, capturing the essence of this moment.
Let's dive into the art of crafting such an anthem!
The Significance of Summer in Music
Summer, with its warmth, freedom, and endless possibilities, holds a special place in our hearts.
Music, as a universal language, reflects these feelings vividly. Summer songs, characterized by their upbeat tempo, catchy hooks, and joyous lyrics, have always been popular, from the Beach Boys' surf rock anthems of the 60s to Calvin Harris's electronic beats today.
Summer music carries a unique emotional resonance. These songs become the soundtrack to our sunniest memories, encapsulating the vibrancy and excitement of the season. They transport us back to those lazy, hazy days, whether it's a carefree childhood summer or a romantic tropical getaway.
That's the power of a great summer song!
The Anatomy of a Summer Song
The perfect summer anthem involves three critical elements: summer-inspired lyrics, feel-good rhythms, and catchy melodies.
Capturing Summer in Lyrics
Great lyrics can transport the listener to a different time and place.
For a summer song, these lyrics should evoke the joys of the season: sun-soaked beach days, breezy tropical nights, and spontaneous summer adventures. They should tell a story that resonates with the listener's own summer experiences.
Consider the lyrics of Bryan Adams' "Summer of '69". They beautifully encapsulate the nostalgia of a youthful summer filled with love, dreams, and carefree rebellion. The specific details - "bought it at the five-and-dime," "played it till my fingers bled," and "standing on your mama's porch" - paint a vivid picture that immerses the listener in the song.
Incorporating Feel-Good Rhythms
The rhythm is the heartbeat of any song.
In a summer song, this rhythm should be upbeat and energetic, perfectly embodying the lively spirit of the season. It's the kind of rhythm that makes you want to tap your feet, sway your hips, and dance like nobody's watching.
Listen to "I Gotta Feeling" by The Black Eyed Peas. The infectious rhythm is a key factor behind the song's global success. It creates a euphoric feeling that perfectly mirrors the freedom and exhilaration of a summer night out.
Creating Catchy Melodies
A catchy melody often distinguishes a hit song from an average one.
It's the tune that sticks in your head long after the song has ended, compelling you to sing along every time you hear it. In a summer song, this melody should be light and uplifting, echoing the happy-go-lucky mood of the season.
"California Gurls" by Katy Perry is a perfect example. The song's melody is instantly recognizable and easy to sing along to, making it a quintessential summer anthem.
Infusing Personal Experiences into Your Summer Song
As a songwriter, you have the power to infuse your own personal experiences into your music. By tapping into your personal summer memories - that family beach trip, the summer festival with friends, the warm nights spent stargazing - you can create a song that's not only relatable but also uniquely yours.
Look at Lana Del Rey's "Summertime Sadness." It stands out as a summer song because it explores the melancholic side of the season, a sentiment that many can relate to. By embracing her unique perspective, Del Rey created a song that resonates on a deeper level with listeners.
Practical Tips for Writing a Summer Song
Crafting a summer song is a unique creative journey. Here are some practical tips to guide you along the way:
Start with a concept: What's your summer story? The concept will guide your lyrics, rhythm, and melody.
Keep the lyrics simple and relatable: Use everyday language and common summer imagery to evoke familiar feelings.
Experiment with different rhythms: Play around with different beats to find one that gets your foot tapping.
Create a memorable hook: This could be a catchy chorus, a repeated line, or a distinctive melody.
Keep it light and uplifting: Remember, a summer song should evoke happiness and freedom.
Stay authentic: Write from your heart and personal experiences.
Ready to turn your summer memories into a catchy anthem? Grab your instrument, let the sun inspire you, and start creating!
Conclusion
Writing the perfect summer song might seem challenging, but with these tips in mind, you're well on your way.
Remember, the best songs come from the heart, so let your personal experiences guide you.
And don't forget to have fun along the way - after all, it's summer!
FAQs
1. What makes a song a summer anthem?
A summer anthem typically combines catchy melodies, upbeat rhythms, and summer-inspired lyrics to evoke the joy and freedom of the season.
2. Can a summer song be sad?
Absolutely! While summer songs are often upbeat, they can also explore the bittersweet or nostalgic side of summer.
3. How can I make my summer song stand out?
Infuse your personal experiences and unique perspective into the song. Authenticity resonates with listeners.
4. Do I need to include specific summer references in my song?
Not necessarily. While many summer songs do include summer imagery, it's more about the vibe the song gives off.
5. What if I don't have any personal summer experiences?
You can draw inspiration from movies, books, or other people's stories. The key is to create a song that feels like summer to the listener.