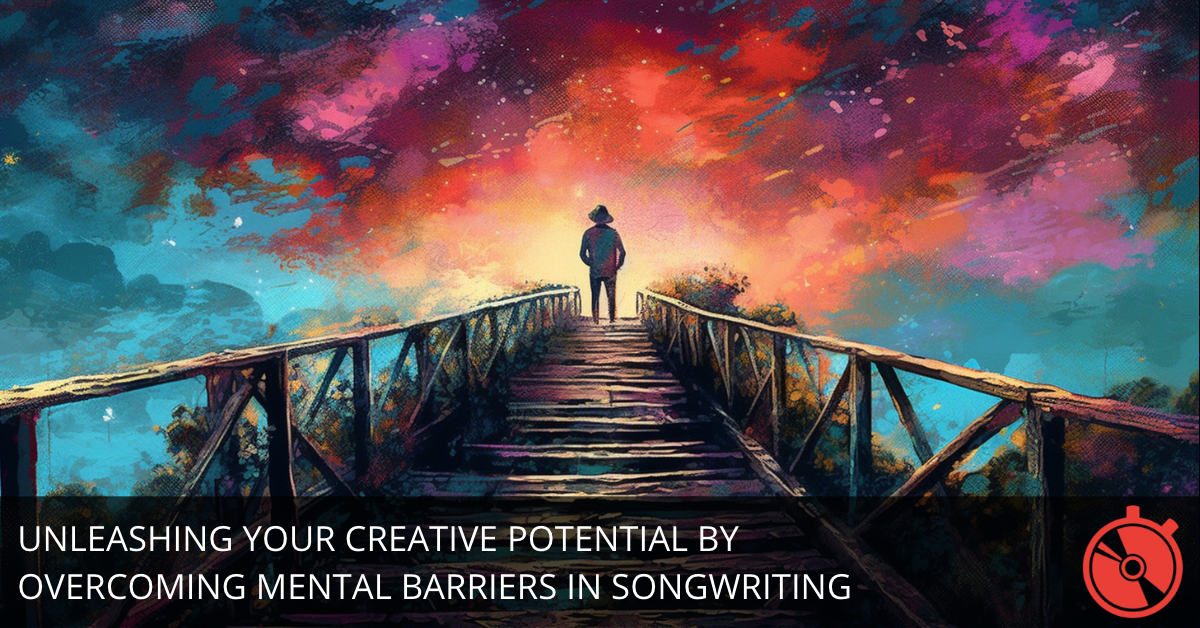 Introduction: A Symphony of Potential
Imagine this: you're standing at the precipice of a vast, unexplored musical landscape.
The terrain is rich with potential melodies, harmonies, and lyrics.
You're equipped with your instrument, your voice, and your passion.
But there's a chain around your ankle, fastened to a colossal weight.
That weight?
It's your limiting beliefs.
They're holding you back, making each step forward a struggle.
What Are Limiting Beliefs?
Limiting beliefs are those pesky, persistent thoughts that whisper you're not good enough, not talented enough, or not original enough.
They're the barriers that stifle creativity and smother innovation.
In songwriting, these beliefs can be particularly crippling, effectively muting the music before it's had a chance to be heard.
Unmasking Limiting Beliefs in Songwriting
Let's shine a spotlight on these sneaky saboteurs.
Recognizing them is the first step towards reclaiming your creative power.
Here are some of the most common culprits lurking in the shadows.
The Big List of Limiting Beliefs That Hold Songwriters Back
Every songwriter, no matter how talented or seasoned, is haunted by a unique set of limiting beliefs.
Can you imagine how many incredible songs have been left unwritten because of self-imposed limitations?
Think of your limiting beliefs as an off-key chorus, disrupting the harmony of your creative process.
So let's have a quick tune-up.
"I need to wait for inspiration to strike."
Empowering Belief: "I can create inspiration through consistent practice."
Benefits: Increased productivity, improved songwriting skills
Remember, inspiration isn't some mystical entity that descends from the heavens.
It's a muscle. The more you flex it, the stronger it gets.
So, why wait for a lightning bolt when you can spark your own creative fire?
"I'm not good enough."
Empowering Belief: "Every piece I write improves my skill."
Benefits: Confidence boost, continuous learning, and growth
We're all works in progress.
Every time you put pen to paper or fingers to keys, you're honing your craft.
Instead of striving for impossible perfection, celebrate each small victory and learn from every misstep.
"I can't write a song until I've learned more about music theory."
Empowering Belief: "Understanding music theory is important, but creativity comes first."
Benefits: More focus on creativity, less procrastination
Music theory is a tool, not a rulebook.
While it can provide a solid foundation, your intuition and imagination are the architects of your musical masterpiece.
Don't let theory become the gatekeeper to your creativity.
"My lyrics have to be perfect."
Empowering Belief: "Perfection is subjective; the authenticity of my lyrics matters more."
Benefits: Freedom of expression, reduced stress over perfectionism
Art isn't about achieving flawlessness; it's about expressing authenticity.
Your lyrics, like you, are unique.
Embrace their quirks, their rough edges, their raw honesty.
That's where the magic happens.
"Speed has no place in songwriting."
Empowering Belief: "Writing speed can be an asset to my creative process."
Benefits: Increased productivity, faster idea generation, reduced overthinking
Your writing speed is not an enemy of creativity.
On the contrary, it can stimulate spontaneous ideas and reduce the time you spend second-guessing your instincts.
Embrace your pace, whether it's a sprint or a stroll.
"I have to stick to one genre."
Empowering Belief: "Exploring various genres can enrich my songwriting."
Benefits: Broadened musical knowledge, versatility, creative growth
By boxing yourself into one genre, you limit your creative scope.
Experimenting with different styles can lead to exciting discoveries and add unique dimensions to your music.
"My song has to be universally appealing."
Empowering Belief: "My song just needs to resonate with my intended audience."
Benefits: Authentic expression, niche audience engagement, reduced pressure for universal appeal
Music, like art, is subjective.
Instead of trying to please everyone, focus on creating a song that resonates deeply with your target audience.
That's where the true connection lies.
"I must always write profound lyrics."
Empowering Belief: "My lyrics can be simple and still evoke strong emotions."
Benefits: Freedom in writing, reduced pressure for complexity, connection with listeners
Not all songs need to be a profound philosophical discourse.
Sometimes, the simplest lyrics strike the deepest chords.
Allow yourself the freedom to express your thoughts, however complex or simple they may be.
"I should only write when I'm in the right mood."
Empowering Belief: "I can write effectively regardless of my mood."
Benefits: Consistency, improved discipline, enhanced emotional intelligence in songwriting
While mood can influence your writing, it shouldn't dictate when you write.
Harnessing different emotional states can add depth and diversity to your songs, turning every mood into a muse.
"I can't finish a song until I've found the perfect melody."
Empowering Belief: "I can refine the melody as I progress with the song."
Benefits: Flexibility in the creative process, less creative block, more finished songs
Waiting for the perfect melody can stall your progress.
Remember, you can always refine the melody as you develop the song.
Don't let the quest for the perfect melody hinder you from finishing your songs.
"My first draft must be flawless."
Empowering Belief: "My first draft is just a starting point for refinement."
Benefits: Less fear of starting, improved editing skills, reduced pressure for perfection
A first draft is a raw material, not a finished product.
It's a space for you to pour out your ideas, not to perfect them.
Embrace the messiness of the process, knowing you can refine it later.
"I can't write without a muse or external stimulus."
Empowering Belief: "I have the power to ignite my own creative spark."
Benefits: Independence in the creative process, enhanced self-confidence, ability to write on demand
Relying solely on external stimuli can be limiting.
Understand that the richest source of inspiration lies within you.
Cultivate your inner muse and see how your creativity soars.
"If I finish a song and it's not a hit, I've wasted my time."
Empowering Belief: "Every finished song is a step forward in my songwriting journey, regardless of its external success."
Benefits: More learning experiences, increased resilience, less fear of failure
Every song you finish, hit or not, contributes to your growth as a songwriter.
Embrace each completed work as a valuable stepping stone in your creative journey.
"I can't write a song unless I have a fully formed idea."
Empowering Belief: "I can start with a seed of an idea and nurture it into a full song."
Benefits: Increased creative output, reduced creative block, ability to capitalize on spontaneous ideas
Songwriting doesn't always begin with a complete idea.
Sometimes, it starts with a single lyric or melody you can nurture and develop into a song.
Embrace these seeds of inspiration, and watch them grow.
"I can't collaborate in songwriting; it will dilute my style."
Empowering Belief: "Collaborating with others can enhance and diversify my songwriting style."
Benefits: Exposure to different perspectives, improved teamwork, enriched songwriting style
Collaboration isn't about diluting your style but rather expanding it.
Working with others can introduce you to new ideas and techniques, enriching your own songwriting process.
"I can't be a successful songwriter because I don't play an instrument."
Empowering Belief: "My songwriting skills are not limited by my ability to play an instrument."
Benefits: Focused development of songwriting skills, increased self-confidence, creative use of available tools
While playing an instrument can be helpful, it's not a prerequisite for successful songwriting.
Many successful songwriters focus on lyrics, melody, and structure.
Don't let the lack of an instrument hinder your songwriting journey.
"If my song doesn't chart, it's a failure."
Empowering Belief: "The success of my song isn't solely defined by chart performance."
Benefits: Less pressure for chart success, increased focus on creative satisfaction, nuanced view of success
Chart success can be gratifying, but it's not the only measure of a song's value.
Impacting even a single listener can be a success.
Focus on creating meaningful, authentic music, and success will have a broader, more fulfilling definition.
"I can't finish a song unless it feels perfect."
Empowering Belief: "Finishing a song is more about progress than perfection."
Benefits: Improved productivity, reduced fear of flaws, more completed projects
Perfection is subjective and elusive.
Focus on making progress and completing your song.
Remember, you can always refine it later.
"Finishing a song quickly means it's low quality."
Empowering Belief: "The speed of finishing a song doesn't define its quality."
Benefits: Increased output, less procrastination, reduced self-doubt
Speed doesn't equate to a lack of quality.
Sometimes, the best ideas flow quickly.
Trust your process, and don't let the speed of completion cloud your judgment of your song's worth.
Conquering Limiting Beliefs with Neuro-Linguistic Programming (NLP)
Neuro-Linguistic Programming, or NLP, is like a user manual for your mind.
It teaches you how to communicate with yourself effectively, helping you to rewrite those limiting beliefs into empowering ones.
With NLP, you can perform a mental spring cleaning, sweeping out the cobwebs of negativity and making room for positive, productive thoughts.
NLP isn't the only option for uprooting the self-sabotaging weeds that quash creativity, but it works.
This is why I became a certified NLP Master Practitioner decades ago and have never stopped using it to turn limiting beliefs into empowering beliefs.
I'll share my expert tips in the following section...
Shifting to Empowering Beliefs: The Catalyst for Positive Change
Embracing empowering beliefs is like unlocking a secret door to uncharted musical territory.
This shift can lead to increased creativity, improved songwriting skills, and a more fulfilling artistic journey.
Affirmations and Visualization: Power Tools for Mindset Shift
Affirmations are positive statements you repeat to yourself, slowly replacing those pesky limiting beliefs.
Paired with visualization, where you imagine yourself achieving your songwriting goals, they can be a potent cocktail for change.
Consistent Practice: Your Key to Unleashing Creativity
The more you do, the more you can do.
Consistent practice is the secret weapon of every successful songwriter.
It strengthens your creative muscles and builds resilience against limiting beliefs.
How Adopting Empowering Beliefs Transforms Your Songwriting
Technical skills aside, the most significant game-changer in songwriting is adopting empowering beliefs.
Picture empowering beliefs as the ultimate songwriting cheat code, unlocking levels of creativity you never knew you had.
Discovering a Well of Endless Creativity
Limiting beliefs act like a dam, blocking the flow of your creativity.
By dismantling these barriers, you allow your creative energy to flow freely, leading to an endless well of original ideas and concepts.
Crafting Higher Quality Songs Over Time
Focusing on growth rather than perfection opens the door to continuous improvement.
Each song becomes a stepping stone, leading you to produce higher-quality work over time.
Experiencing Greater Satisfaction and Joy in the Songwriting Process
Songwriting is a journey.
When you let go of limiting beliefs, you allow yourself to fully enjoy each moment of the process, bringing greater satisfaction and joy to your craft.
Conclusion: The Song of Self-Belief
In the symphony of songwriting, self-belief is the most powerful instrument you can play.
By recognizing and rewriting your limiting beliefs, you can conduct your creativity with confidence, crafting a melody that's uniquely, authentically yours.
Ready to sing the song of self-belief?
Write it!
FAQs
1. How do I know if I have limiting beliefs?
If you often find yourself thinking that you're not good enough, not talented enough, or that you can't achieve your songwriting goals, you're likely dealing with limiting beliefs.
2. Can I really change my limiting beliefs?
Absolutely! With techniques like Neuro-Linguistic Programming (NLP), affirmations, visualization, and consistent practice, you can replace limiting beliefs with empowering ones.
3. Does adopting empowering beliefs guarantee success in songwriting?
While adopting empowering beliefs can significantly boost your creativity and productivity, remember that success also requires effort, dedication, and continuous learning.
4. How long does it take to shift from limiting to empowering beliefs?
The shift can happen as quickly or slowly as you allow. The key is consistent practice and patience with yourself throughout the process.
5. Where can I learn more about overcoming limiting beliefs in songwriting?
You can find more resources on overcoming limiting beliefs and boosting your songwriting in the Speed Songwriting System.