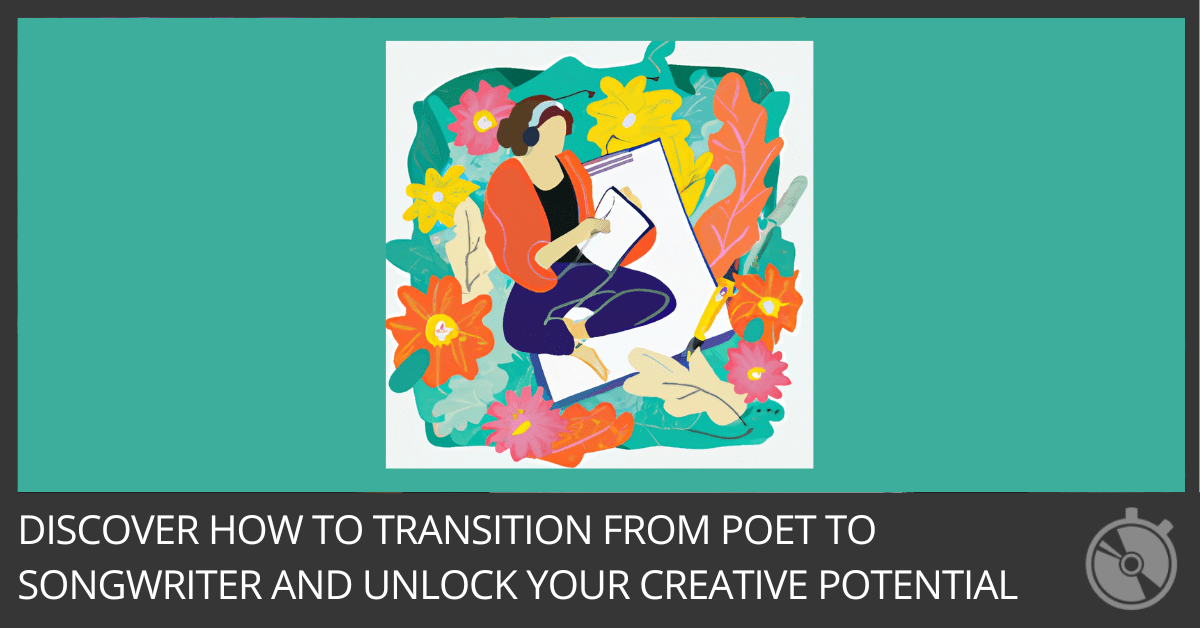 Writing lyrics for songs is a great way to develop your creative craft and reach a larger audience.
Indeed, some of the skills you need to write successful poetry may not be required when writing song lyrics, such as rhyming and meters. That being said, transitioning from writing poetry to writing song lyrics can still seem daunting if you have no prior experience.
Here's Why Writing Lyrics Is Different Than Writing Poetry
Song lyrics need to follow the melody and rhythm of a song, but poems don't have to.
You also use more quickly perceived elements like rhyme and alliteration in song lyrics, compared to poems, which have the luxury of thoughtful pauses.
Lastly, song lyrics are often about storytelling or catchy choruses, while poems are usually more personal feelings and emotions.
Tips For Crafting Lyrics That Fit With The Music
Crafting lyrics that fit with music is different than writing poetry. Music must follow a melody and rhythm, while poems don't have to. For songs, you can use rhyme and alliteration more often than in poems. Song lyrics usually tell stories or have catchy choruses, while poems are more about feelings and emotions.
To write song lyrics that fit the music, start by playing the accompanying track and listening to its melody and rhythm. Make sure to write lyrics that keep that same beat, so they flow along with the music. Pay attention to pauses and accents within the tune, and make sure your words match those moments for maximum impact. You can also add catchy rhymes or alliterations for a more memorable effect. Lastly, focus on creating an engaging story that will capture the listener's attention and create an emotional connection.
Ready to start writing songs?
Now that you know the differences between writing poetry and songwriting, it's time to take your skills to the next level! With the Speed Songwriting System course, you'll learn the principles of writing lyrics that fit naturally with the music and create lasting emotional connections.
Start Speed Songwriting today and get ready to start crafting your own musical masterpieces!
Crafting Catchy Choruses And Hooks For Your Song Lyrics
Creating catchy choruses and hooks that will stick in listeners' heads requires an understanding of the essential elements of musical composition and knowledge of how these elements can be used to convey emotion and tell a story effectively. The most critical element for any chorus or hook is a memorable melody. When crafting a memorable melody, you should pay attention to the timing, repetition of phrases and words, as well as range of notes. Additionally, you should include strong lyrical imagery that is easy to remember, such as metaphors and vivid descriptions.
Overcoming Writer's Block When Writing Lyrics
Creating catchy and memorable song lyrics that fit the music can be intimidating. However, writer's block doesn't have to get in the way of crafting compelling songs. Here are some strategies for overcoming writer's block when writing lyrics:
Listen to music – explore different genres of music, as this can help you find inspiration.
Freewrite – write down whatever comes to mind without worrying about structure or quality, as this can help generate new ideas.
Talk it out – talk through your lyrics with friends or fellow songwriters, as they might provide fresh perspectives on how to improve them.
Record yourself – record yourself singing different melodies and playing around with words, which can help you discover unexpected rhymes and phrases that could be used in songs.
Resources And Advice For Taking An Online Course On Writing Lyrics Effectively
Writing lyrics that fit with the music is an art form that can be learned through practice and dedication. Many resources, such as online lyric writing courses, are available to help aspiring songwriters develop their craft. Here are some tips and advice for taking an online songwriting course on writing lyrics effectively:
Research – it's important to research the courses offered online and find one that best fits your needs. Look at reviews from past students, class syllabi, and instructor credentials to make sure you're getting quality instruction.
Set realistic expectations – don't expect to master the craft of songwriting in one week or even in one semester. It takes time, dedication, and practice to become a successful songwriter, so set realistic expectations.
Create a plan – after finding an online course, create a plan for yourself that outlines what you need to accomplish each day or week to complete the course successfully. This will help keep you motivated and on track with your progress.
Practice – there is no substitute for actually putting pen to paper and practicing crafting lyrics that fit with the music. Try creating melodies using different instruments, experimenting with rhyme schemes, or exploring different genres of music — all of which can help inform your songwriting process.
Seek feedback – once you've written some songs, share them with others and ask for feedback on how you can improve your craft. Their input can be invaluable when it comes to refining your skills as a songwriter.
Prepare for success – use the knowledge gained during your online course to prepare yourself for success in the future by networking with other musicians and industry professionals who could potentially benefit from your work.
Taking The Next Step:
Sign Up For Speed Songwriting Today To Learn How To Write Lyrics Effectively And Unleash Your Creativity!
Poets looking to expand their writing capabilities by creating catchy songs should consider signing up for Speed Songwriting today! This comprehensive online training program covers all aspects of creating great lyrics that fit with the melody and rhythm of its accompanying music. In addition, students will receive guidance on understanding lyrical and musical elements such as rhyme, rhythm, harmony, etc., storytelling techniques for conveying emotion through catchy choruses or hooks and crafting compelling lyrics that stick in listeners' heads.
Speed Songwriting lets poets make the most of their songwriting journey!
Related Resources: