Tuning in to the Rhythm of Routine
Step into any successful musician's studio, and there's one thing you can't miss – routine.
Like the steady beat of a metronome, it underpins the daily ebb and flow of music creation.
But what exactly is a routine in the realm of music?
Let's call it a meticulously set pattern of activities, planned practice sessions, and dedicated hours of perfecting notes, rhythms, or compositions.
Can routine in music-making become your ticket to success?
Absolutely! And here's why.
Skill Development - The Magic in the Monotony
Routine, the everyday monotony of scales and exercises, hides a secret magic within - the power to hone skills to their sharpest.
Let's imagine routine as a diligent piano teacher, taking your hands and guiding you to play the same piece repeatedly.
At first, you falter, missing notes and botching timing.
But over time, your fingers seem to acquire a mind of their own, flowing flawlessly over the keys.
That's the power of skill development through routine.
It's not glamorous, but it's as real as the calluses on a guitarist's fingers.
Productivity - Striking the Right Chords Consistently
Have you ever noticed how an orderly schedule keeps chaos at bay?
Routine is that unsung hero in a musician's life that maintains order amidst the creative frenzy.
Consider it the conductor of an orchestra, guiding productivity and ensuring that every day yields tangible results.
A set routine gets you into the groove, turning sporadic sparks of creativity into a consistent musical output.
Consistency - From One-Hit Wonders to Enduring Legacies
Routine lays the foundation for consistency, an often underrated virtue in the music industry.
Remember that band that vanished after their chart-busting debut album? Or the singer who couldn't recreate the magic of their first hit single?
Consistency is the dividing line between one-hit wonders and musicians who etch enduring legacies.
Routine, with its emphasis on regular practice and steady work, helps you stay on the right side of this line.
But while routine might be a steadfast companion on your musical journey, relying on it alone can lead to predictable compositions, leaving listeners craving more depth and originality.
This is where the muse of inspiration comes in.
The Ephemeral Dance of Inspiration
If routine is the steady rhythm, inspiration is the soaring melody in the music of creation.
It's those electrifying moments when you're struck by a sudden idea, a fresh melody, or a unique chord progression.
Inspiration often comes uninvited when you're strumming aimlessly on your guitar or even when you're in the shower!
Innovation - Breathing Life into Music
When inspiration strikes, it feels like the first brush of a spring breeze, full of promises.
It brings innovation, allowing you to explore new sounds, different rhythms, or unconventional harmonies.
Take Radiohead's 'Kid A', an album brimming with innovation.
Could it have been created without inspiration striking Thom Yorke as he toyed with a synthesizer?
Probably not!
Emotional Connection - Crafting Stories from the Heart
While routine makes your music exist, it's inspiration that breathes emotion into your compositions.
It's what turns simple lyrics into stories that resonate with listeners.
Think of Adele's soulful tunes or the poignant narratives in Bob Dylan's songs.
Inspiration, like an alchemist, transforms personal experiences into musical masterpieces, connecting hearts across continents.
Originality - The Unmistakable Signature
Let's be real.
No one remembers the generic.
It's the unique, original music that stands the test of time.
Inspiration can serve as the catalyst for this originality.
It's like that secret ingredient in your favorite dish that makes it unforgettable.
Beethoven, for instance, didn't become a maestro by adhering strictly to the norm.
It was his inspired deviations that gifted us the 'Moonlight Sonata.'
Yet, just as an excess of routine might lead to mundanity, solely depending on inspiration can result in sporadic output and inconsistency.
So, how can we bridge these two?
Striking the Perfect Chord: Harmonizing Routine and Inspiration
Imagine if you could conduct the symphony of music creation with routine and inspiration in perfect harmony.
You'd have the discipline of routine guiding your technical skill development and the spark of inspiration illuminating your creative path.
Sounds like the best of both worlds, doesn't it?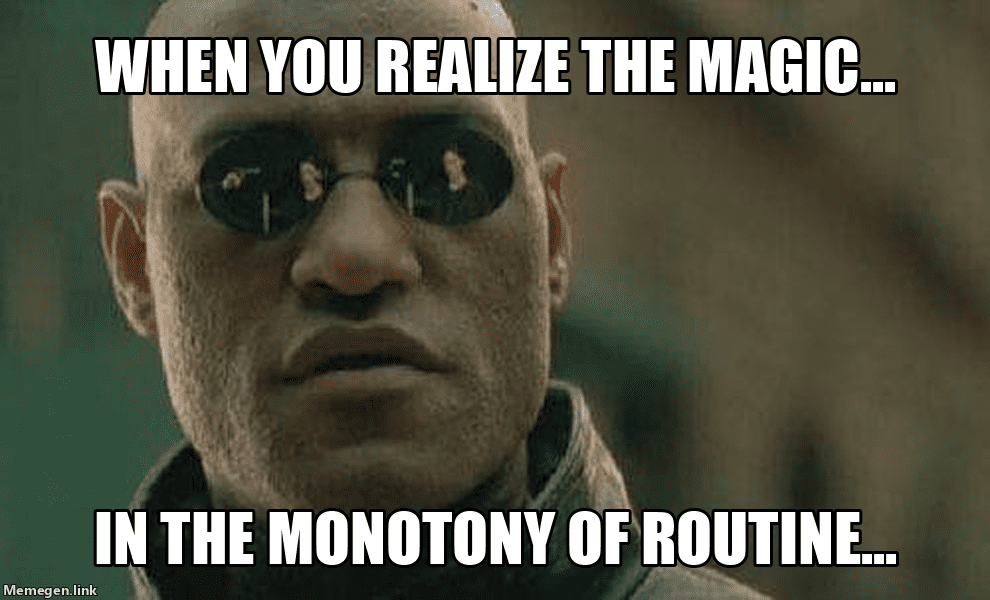 Scheduled Creativity Sessions - Routine Meets Inspiration
One way to achieve this harmony is by scheduling creativity sessions.
Picture it like a jam session where your routine invites inspiration to play.
By carving out regular time slots for creative exploration, you allow the routine to set the stage and inspiration to take the spotlight.
Staying Open to Spontaneous Ideas - Embrace the Unexpected
You never know when or where inspiration will strike.
It might be in the middle of the night or while you're out for a walk.
So, carry a notebook or a voice recording app to capture these spontaneous ideas.
In a way, it's like turning your entire day into an open jam session of inspiration.
Integrating Inspirational Activities into Routine - Sowing the Seeds for Ideas
While you cannot command inspiration, you can certainly create fertile grounds for it to flourish.
This could mean integrating activities that stimulate your creativity into your routine.
It could be as simple as taking a nature walk, reading a book, or even cooking your favorite dish.
Such activities can prove to be fertile soil where the seeds of inspiration germinate.
Adapting Routines to Facilitate Inspirational Moments - Bend but Don't Break
Routines don't have to be rigid.
Think of them as a gentle river, not a concrete path.
Let them adapt and flow with your creative needs.
For instance, if you find early mornings to be your most inspired hours, reshape your routine to maximize this time.
Remember, the aim is to facilitate inspiration, not stifle it.
Concluding the Composition
Music creation isn't a battle between routine and inspiration; it's their delicate dance that produces the most enchanting symphonies.
Whether it's the disciplined rhythm of routine or the captivating melody of inspiration, both play an indispensable role in crafting musical masterpieces.
So, let's not play favorites.
Instead, strive for a harmonious blend, a balance between routine and inspiration.
After all, isn't music all about harmony?
---
FAQs
1. Is routine more important than inspiration in music-making?
It's not about ranking one over the other. Both routine and inspiration play crucial roles in music-making. Routine aids in skill development, productivity, and consistency, while inspiration sparks innovation, emotional connection, and originality.
2. How can I strike a balance between routine and inspiration?
You can balance routine and inspiration by scheduling creativity sessions, staying open to spontaneous ideas, integrating inspirational activities into your routine, and adapting your routines to facilitate inspirational moments.
3. Can routine stifle my creativity?
While over-reliance on routine could potentially make your music sound monotonous, a well-designed routine can actually boost your creativity by providing structure and discipline.
4. Can I depend solely on inspiration to create music?
Depending solely on inspiration can result in sporadic output and inconsistency. It's often more beneficial to blend inspiration with a steady routine for a more balanced