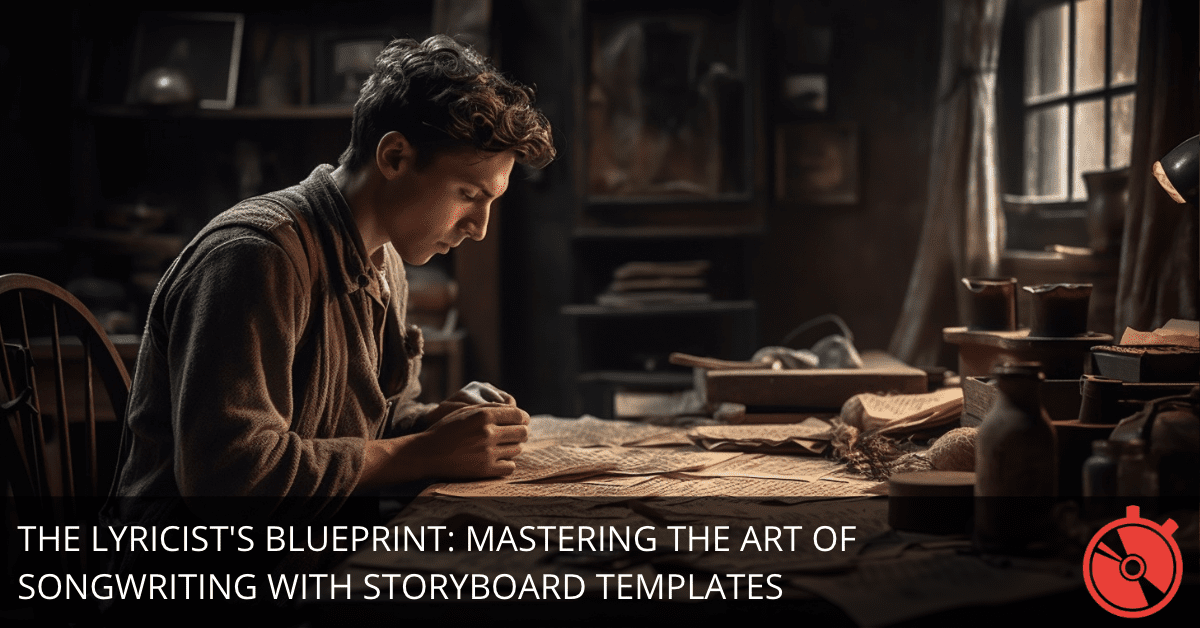 Have you ever considered that the magic of storytelling might not only reside in books, films, or plays but also in songs?
In fact, songs are potent vessels for storytelling.
Think of iconic story songs like Bob Dylan's "Tangled Up in Blue" or Dolly Parton's "Jolene."
What makes them so memorable?
It's the story woven into their lyrics and melody.
The Significance of Storytelling in Songwriting
The beauty of a well-written song, much like a spellbinding book or film, lies in its ability to carry us on an emotional journey.
It captures our hearts and minds, catapulting us into different worlds, lives, and experiences.
The more effective the storytelling, the deeper the connection we feel.
The Role of a Storyboard Template in Songwriting
A storyboard template, in its most basic form, is a framework used to visualize the sequence of a story.
Just as it is used in filmmaking to map out scenes, a storyboard template can also be an excellent tool for songwriters.
It helps in organizing the structure of your song, outlining the arcs of your characters, and keeping track of key song elements.
But how exactly does this tool help in songwriting?
Step-by-Step Guide to Using a Storyboard Template for Songwriting
Idea Generation
Your song's journey begins with an idea, a spark that lights the way for your story and characters.
In the first stage of creating your storyboard, it's essential to allow your ideas to flow freely.
Don't worry about structure or melody yet—just focus on the story and its characters.
Remember, a great story song is as much about emotion as narrative.
What feelings do you want to evoke?
What kind of journey do you want your listeners to embark upon?
graph TB A[Song Idea] -- What emotions to evoke? --> B((Emotions)) A -- What journey will the listener go on? --> C((Journey)) A -- What's the story? --> D[Story] A -- Who are the characters? --> E[Characters]
Story Structuring
Now that you have your story and characters, it's time to structure your song.
This is where your storyboard comes into play.
Use it to map out how your song will unfold, scene by scene.
Will you start with a powerful hook?
Or will you let the story unravel slowly, building suspense?
There's no right or wrong here—it's about how you want your story to be told.
Lyrical Development
The words you choose to tell your story are just as important as the story itself.
They are the vehicle that drives the narrative, the connection between your song and your audience.
Use your storyboard as a guide to help you craft your lyrics.
It can help you maintain the right pacing, ensuring your song doesn't reveal too much too soon or drag on too long.
Revision
Once you have your lyrics and melody, your song might seem complete.
But don't be in a rush to call it finished.
Use your storyboard to review and refine your song.
Does it flow well?
Do the lyrics and melody align with the progression of the story?
Revise until your song is as close to perfect as possible.
After all, you're not only crafting a song but also telling a story that you want to resonate with your listeners.
The Benefits of Using a Storyboard Template for Songwriting
Now that we've navigated the storyboard journey let's talk benefits.
A storyboard template offers clarity, organization, and sparks creativity.
It provides a clear vision of your song's narrative, ensuring every verse contributes meaningfully to your overall story.
But the benefits extend beyond just the practical.
Using a storyboard can unlock untapped creativity.
How? By allowing you to see your song from a broader perspective.
You might find new connections between verses, unexpected character developments, or a twist in your story you hadn't considered before.
Think of the storyboard template as your co-writer, helping you tell the most compelling story possible in your song.
Additional Tips and Tools for Using Storyboard Templates in Songwriting
Just getting started with this new approach? No worries! Here are some tips to get you going:
Start Simple: Don't get too caught up with complex templates at first. Begin with basic ones, and as you get comfortable, you can explore more intricate ones.
Experiment: Try out different structures and layouts until you find one that best suits your style.
Be Patient: It might take a little time to get the hang of it. But like any skill, the more you practice, the better you'll get.
There are also several templates in my Story Song System to make storyboard creation easier.
Conclusion
Songwriting is an art, a beautiful fusion of storytelling and music.
A storyboard template is a tool that can elevate this art, providing a new perspective to your songwriting process.
As you venture on this journey, remember that the end goal isn't just to write a song—it's to share a story, evoke emotions, and connect with your listeners on a deeper level.
So, take the storyboard, and let it guide you from idea to song.
FAQs
1. Can I use a storyboard template for any type of song?
Yes, a storyboard template can be used for any song genre or type. It's a versatile tool designed to help you organize your thoughts and ideas.
2. I'm a new songwriter. Is using a storyboard template complicated?
Not at all! A storyboard template is user-friendly. Start with a simple template and gradually explore more complex ones as you get comfortable.
3. How does a storyboard template enhance creativity in songwriting?
A storyboard template provides a broader perspective on your song, helping you see new connections, unexpected character developments, or plot twists. This can stimulate creativity and lead to unique song ideas.
4. Can I use a storyboard template for collaborative songwriting?
Absolutely! A storyboard template can act as a common ground for all collaborators, ensuring everyone's on the same page.
5. Do I need any special software to create a storyboard template?
While there are online tools that can make the process easier, you don't necessarily need any special software. Instead, you can start with just a pen and paper and a Story Song System Template.