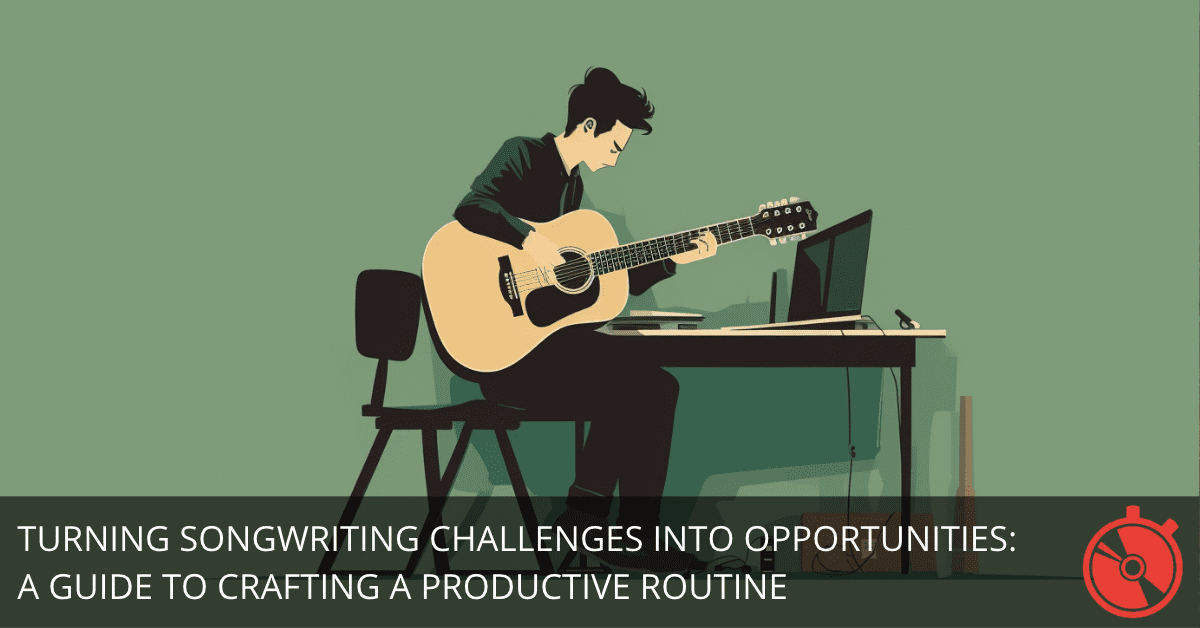 What's Holding You Back in Songwriting?
Just like a juggler balancing spinning plates or a chef perfecting the art of a soufflé, songwriting can feel like a high-wire act.
The struggles are real - from creative blocks and time management woes to a fickle muse that plays hide and seek.
But hey, who said songwriting was a walk in the park?
Let's unravel these common challenges that songwriters face.
When the Creative Well Runs Dry
Have you ever found yourself staring at a blank page, pen in hand, waiting for a lyrical miracle to appear?
We've all been there.
Sometimes, your mind feels as dry as a desert, with not a drop of creativity in sight.
This is the infamous creative block.
It's like an invisible wall standing between you and your next big hit.
Racing Against Time
Picture this: The clock is ticking, the pressure is mounting, but the words just won't flow.
Managing time effectively while songwriting can feel like trying to catch a cloud.
It's frustrating, isn't it?
Losing the Muse
Inspiration is a fickle friend.
One moment it's here, flooding you with ideas, and the next, it's gone, leaving you in the lurch.
Lack of inspiration or motivation can turn the joy of songwriting into a daunting task.
Shadowed by Fear
Fear of failure or criticism is like a monster under the bed.
It can paralyze you, keeping you from reaching out for your dreams.
It's a struggle that casts a long shadow over the songwriting process.
The Battle of Consistency
Inconsistency and lack of discipline are like holes in a boat.
No matter how hard you row, the boat of your songwriting journey won't reach the shore if you don't plug these holes.
Walking in the Shoes of Successful Songwriters
Ever wondered what the journey of successful songwriters looks like?
Let's step into their shoes to find out.
From grappling with the same struggles you face to mastering the art of overcoming them, their experiences hold a treasure trove of lessons.
They, too, have spent nights wrestling with creative blocks and battling fear.
But what sets them apart is their resilience and their undying passion for music. Their unwavering discipline and consistency and the courage to dance with their fears have paved the way for their success.
Remember, the path to a fruitful songwriting routine isn't about never falling; it's about getting up every time you do.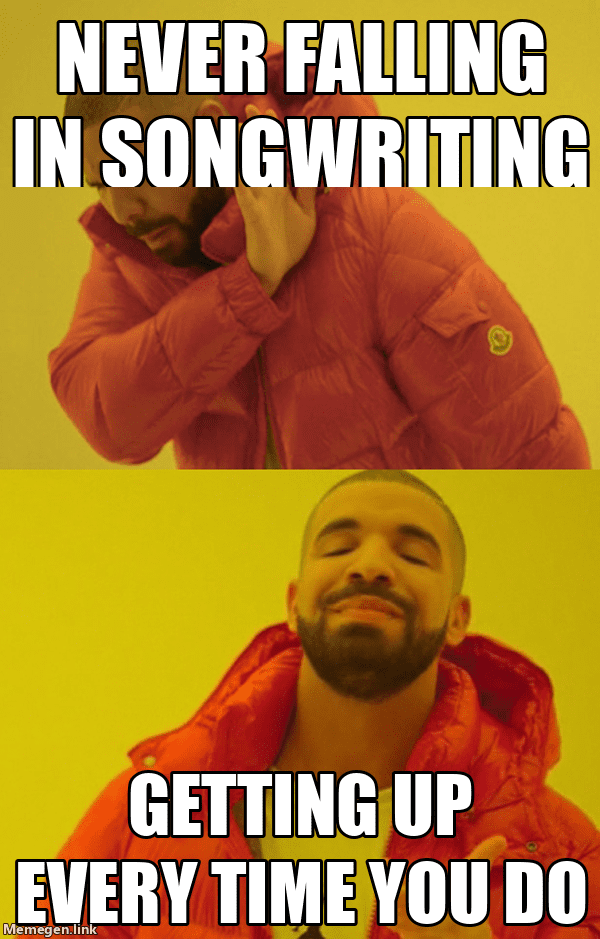 Winning Over the Songwriting Struggles
Ready to turn the tide in your favor?
Let's dive into the strategies to conquer these songwriting struggles.
Think of these strategies as your armor on the battlefield of songwriting.
Conquering the Creative Blocks
Ever tried to open a locked door with the wrong key?
That's what a creative block feels like.
But here's a secret key - let your mind wander.
Indulge in freewriting. Fill the pages without judging your ideas.
Give your creativity the wings of freedom, and watch as it soars high.
Mastering Time Management
Imagine time as sand slipping through your fingers.
The trick isn't to clutch it tighter but to use it wisely.
Break your songwriting process into smaller tasks.
Dedicate specific time slots for brainstorming, writing, and refining.
Remember, every drop makes the ocean.
Reigniting the Muse
Ever noticed how a gust of wind can turn a small spark into a roaring fire?
That's what you need to do with your inspiration.
Explore new music genres, delve into poetry, and immerse yourself in nature.
Let these experiences be the wind that fans your creative spark.
Taming the Fear Monster
Imagine fear as a towering wave.
Instead of running away, dive right through it.
Embrace the fact that failure and criticism are just stepping stones to success.
Let every setback fuel your journey forward.
Plugging the Holes of Inconsistency
Inconsistency in songwriting is like running a race with intermittent pauses.
You won't reach the finish line that way.
So, make a schedule and stick to it.
Show up for your songwriting, even when you don't feel like it.
Consistency is the bridge between your dreams and reality.
Crafting Your Productive Songwriting Routine
Ready to build your songwriting routine?
Think of it as constructing a house, brick by brick.
Let's get to it.
Set a goal: Decide what you want to achieve. A new song every week? A verse every day? Remember, a house without a blueprint is a disaster waiting to happen.
Allocate time: Choose your songwriting hours. Morning lark or night owl, pick a time when your creativity shines brightest.
Create a workspace: A cluttered space leads to a cluttered mind. Make your workspace a haven for your creativity.
Seek inspiration: Listen to music, read a book, or watch a movie. Let the world be your muse.
Write regularly: It's the golden rule of songwriting. Show up for your craft every single day. It's the cement that holds the bricks of your songwriting house together.
Remember, a routine is not a cage but a ladder. A ladder that will take you to the pinnacles of songwriting success.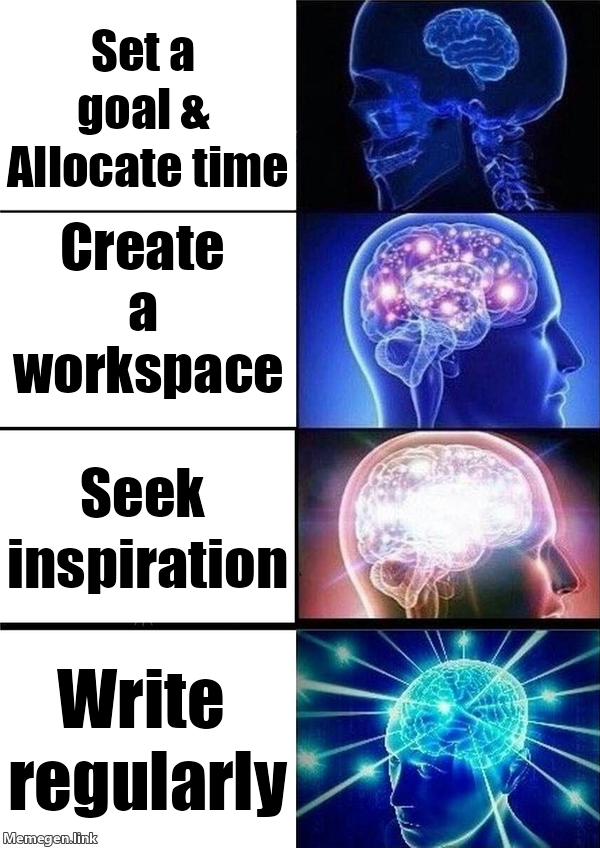 Over to You
So, are you ready to overcome your songwriting struggles?
Remember, every journey begins with a single step.
With determination in your heart and a pen in your hand, there's no mountain high enough.
So, take the plunge, and dive into the beautiful world of songwriting.
Your story is waiting to be written in the verses of your songs.
---
Frequently Asked Questions
1. What is the best way to overcome creative blocks in songwriting?
A great way to overcome creative blocks is through freewriting. Let your ideas flow onto the page without judgment.
2. How can I manage my time effectively while songwriting?
Breaking your songwriting process into smaller tasks and dedicating specific time slots for each can help manage your time effectively.
3. What can I do when I lack inspiration for songwriting?
Exploring new music genres, reading poetry, and immersing in nature can reignite your creative spark.
4. How do I deal with the fear of failure or criticism in songwriting?
Embrace the fact that failure and criticism are stepping stones to success. Let every setback fuel your journey forward.
5. What are some tips for maintaining consistency in songwriting?
Making a songwriting schedule and sticking to it can help maintain consistency. Show up for your songwriting, even when you don't feel like it.