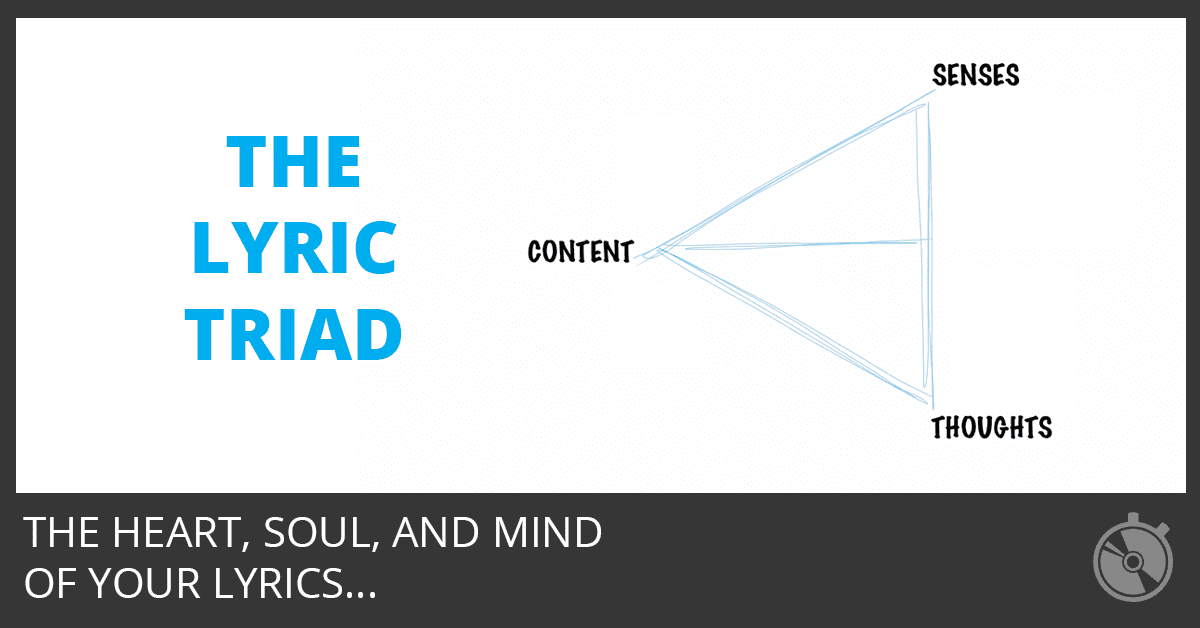 With only three things to remember, your next lyrics will practically write themselves.
The Lyric Triad is a tool I created to make it easy to start writing and keep coming up with ideas whenever you need them.
I detail how I discovered the Lyric Triad here: Write Lyrics Like a Super Hero
Content
Content is the stuff you write about.
Senses
Sensory details are factual descriptions of the content. You use your five senses to come up with these descriptions.
Thoughts
Thoughts are subjective internal descriptions of the content. They give the sensory details and content meaning.
You can use these lyrical details for emotional impact.
I show you how to write songs using the Lyric Triad in The Speed Songwriting System.
The problem with many struggling lyric writers is that they use only one or two legs of the triad. They might write lots of thoughts about a subject, but with no concrete sensory details, the listener loses interest. Or they might lose focus on the content they're writing about and confuse listeners as the song unravels.
A little-known fact about the three legs of the Lyric Triad is there are 6 prime types of content, 6 prime categories of thought, and 6 prime senses. When you learn how to use all of them, your writing gains vivid detail. And when you learn how to use the Lyric Triad as a writing prompt, you'll never run out of ideas again. In fact, you'll be able to write interesting and focused lyrics faster than ever.
If you'd like to learn how to eliminate writer's block and write better songs faster using the Lyric Triad, check out The Speed Songwriting System.