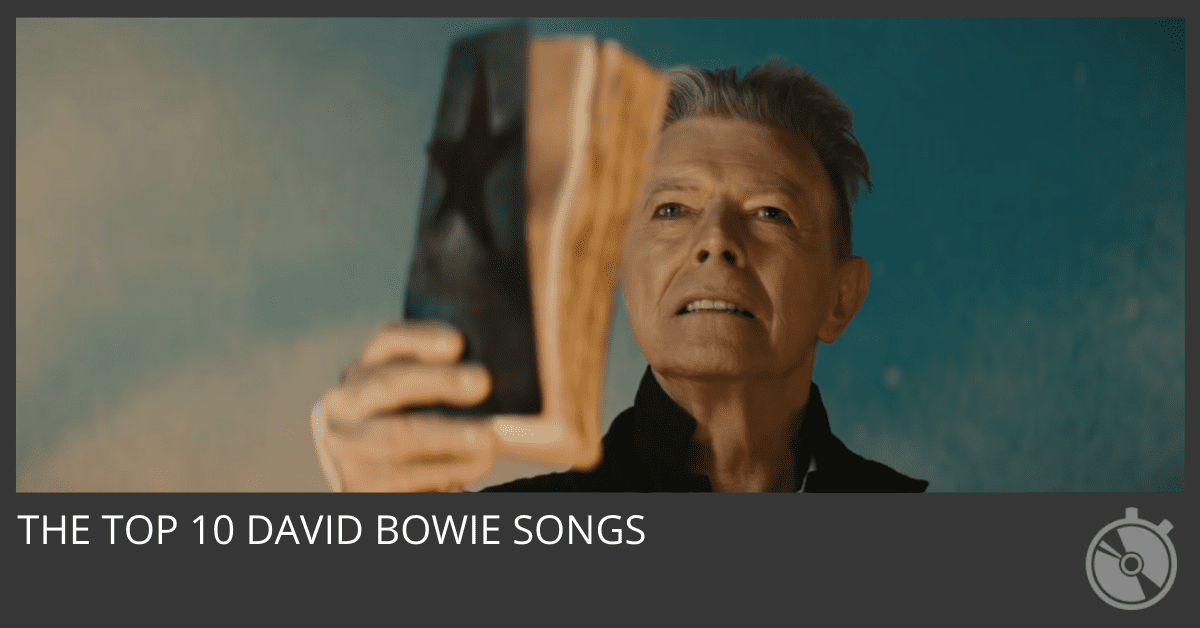 "Oh, come on. What else could it be?" - David Bowie
David Bowie was a musical chameleon, reinventing himself repeatedly throughout his illustrious career. His music spanned genres, from rock to glam rock to soul to electronica. He earned critical praise for his unique sound and celebrated commercial success with album sales in the millions. Here are my picks for the ten best David Bowie songs of all time (but I love them all!).
1) "Space Oddity," 1969
The song that launched a star's career: This slow-burner opens with a spaceship being prepared for launch before going through an intergalactic journey full of danger and death, plus a surprise appearance by Ground Control back on Earth. It's a tale of isolation and adventure, and it's one hell of a trip.
2) "Changes," 1971
Bowie was always looking for new sounds to explore, and with this track, he went synthpop. The song is an anthem about the dangers of growing old in a society that prizes youth: "I watch the ripples change their size/ but never leave the stream." It also became known as one of his most popular songs in live performances — you can hear him sing it plenty of times on YouTube — and has been covered by dozens of artists since its release.
3) "Ziggy Stardust," 1972
The glam rock era's standout: This song depicts the rise and fall (and subsequent resurrection) of a rock star named Ziggy Stardust. It was a bold move for Bowie to write a concept album about the fate of a single person, but it paid off: This track became a huge hit and remains one of his best-known tracks.
4) "Heroes," 1977
Bowie's anthem to love in the direst of circumstances: The Berlin Wall cut across West Berlin, splitting the city between communism and capitalism. In one part, on the western side near Checkpoint Charlie, there were no apartment buildings or high rises — just old warehouses that faced into East Berlin. A few musicians went over to record this tune right at that location with the wall as their backdrop; you can still see them standing against it today in some of the song's promotional photos.
5) "Under Pressure," 1981
A duet with Queen: Mercury and Bowie sing about their entrapment in a loveless relationship — or, as they put it, "Now our life is run/ There's no turning back." They ask to be saved from boredom and start to lose hope as they plead for some kind of escape: "Please, can you help me?" (Mercury even manages to sneak in his signature sound — that deep "woo-hoo!" — into the final chorus.)
6) "Let's Dance," 1983
The monster pop hit: This track debuted at no. 1 on Billboard's Hot 100 and went all the way to no. 1 in the UK. It's a song about longing for a simpler time, and it might be Bowie's catchiest track of all time — you can't help but dance when it comes on the radio.
7) "Fame," 1975
The song that made Bowie a star: This was his first big hit in the United States, reaching No. 1 on the Billboard Hot 100 (but only getting to No. 10 in the UK). The lyrics name-check Andy Warhol and Jesus Christ; it's both an ode to stardom and one of his best tracks about embracing celebrity culture.
8) "Suffragette City," 1972
The song that captured the zeitgeist of the '70s: This track is all about being too cool to go to a show for an "uptown girl" because you have something better to do. The piano riff, by Mike Garson, is one of Bowie's catchiest; while some people think it sounds like T Rex (and therefore Marc Bolan), Bowie himself said it was inspired by Cream.
9) "Fashion," 1980
Yet another hit single from the '80s glam rock era: In this track, Bowie looks back on an earlier time in his life and realizes that he wasn't as confident or fulfilled as he thought he was at the time. He's a bit nostalgic, but he also criticizes the fashion scene for going nowhere: "Fashion! Turn to the left/ Fashion! Now you're in clover." To top it off, there's an awesome saxophone solo in this song — just one more reason why we love him.
10) "Lazarus," 2016
The first track on his final album: The title comes from a character that Bowie had initially written into his play "The Man Who Fell to Earth" (which was later made into a movie), and it appeared again on his last album. But this particular song isn't about outer space so much as it is about his own life and death: "Look up here, I'm in heaven/ I've got scars that can't be seen." In this tune, he also references Jesus ("I know Saint Peter won't call my name"), which makes sense because the video for the song shows him lying on a hospital bed with bandages all over his face.
Honorable Mentions
"Ashes to Ashes," 1980
Bowie's new-wave comeback: In the 1970s, Bowie was a devoted follower of cocaine. In the 1980s, he kicked the habit and embraced a new sound. This song leads off his album Let's Dance, which features synthesizers and an accessible pop style that helped bring him back into mainstream popularity.
"China Girl," 1983
The song that brought him onto MTV: This might be his most well-known track from the '80s — it even reached No. 1 on Billboard's Mainstream Rock Tracks in 1984. It's a sweet song with a catchy melody, and its video features some of the wildest styles from the era. You'd need to look twice if you passed someone wearing this outfit in real life!
"Blackstar," 2016
Bowie's final words to us: Following an 18-month battle with cancer, Bowie died two days after releasing this dark, enigmatic track. It begins with something very soft and mellow but then builds over time into a grand statement about how we all have to face death. This song is the man's final gift to us, and it's a beautiful one.
What did I miss? Leave a YouTube link in the comments!