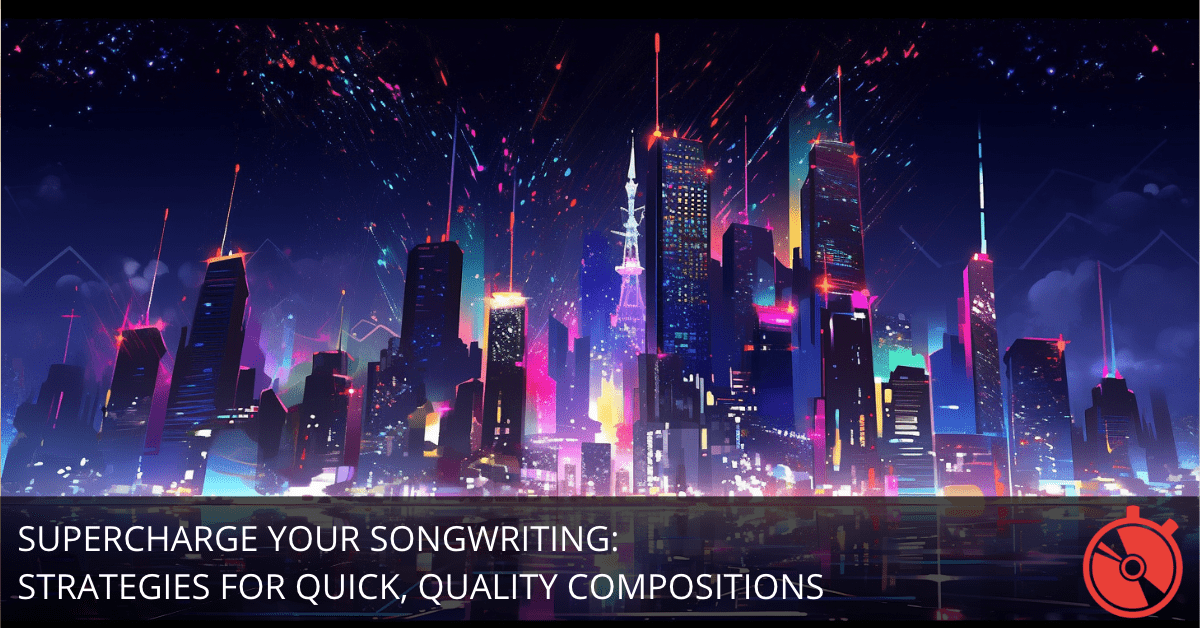 Ever felt like your songwriting process is like walking through molasses?
You're not alone!
Let's dive into some powerful techniques that can put some rocket fuel into your songwriting journey.
Harnessing the Power of Songwriting Speed
Songwriting speed, in essence, is the pace at which you transform your creative ideas into finished songs.
Now, let's clarify something.
Faster songwriting doesn't mean churning out low-quality songs.
On the contrary, it's about reaching a point where inspiration and execution walk hand in hand.
Think of it as a flowing river rather than a turbulent sea.
Preparation - The Unseen Muse
Think preparation is boring?
Think again!
It's like stretching before a marathon - it keeps you flexible and ready.
It's not about rigid rules; it's about preparing your mind to welcome those sparks of inspiration when they come.
Mental Preparation - A Sneak Peek
It's about inviting creativity, not forcing it.
Meditate, take a walk, listen to your favorite tunes - do whatever gets those creative juices flowing.
1. Cultivating the Right Mindset - Unleashing Your Inner Songwriter
Afraid that your songs might not be 'good enough'?
Toss that thought out the window!
Embrace the idea that every song you write is a step forward, no matter how it turns out.
It's not about being perfect; it's about being fearless in your creativity.
2. Setting a Specific Writing Schedule - Consistency is Key
Remember when your guitar or keyboard felt like an extension of yourself because you practiced so much?
That's the power of consistency!
Whether it's daily or weekly, commit to a specific schedule and let your creativity flourish.
3. Embrace Freewriting and Improvisation - Unchain Your Thoughts
Freewriting and improvisation are like explorers in the wilderness of creativity.
No maps, no restrictions, just limitless possibilities.
They silence the inner critic and let your true voice echo.
Ready to let your thoughts fly free?
4. Study the Masters - Shoulders of Giants
Ever wondered how Lennon wrote such timeless melodies?
Or how Dylan's words strike like lightning?
Studying the masters is not about copying their style.
It's about understanding their process, their mindset, and their passion.
It's like a secret window into their creative world.
5. Use a Songwriting Template - Roadmaps for Your Journey
Imagine you're in a new city without a map.
Confusing, right?
Now, think of songwriting templates as your personal GPS.
They help guide your ideas into structured songs, helping you navigate the world of songwriting with ease.
6. Keep a Song Idea Journal - Your Treasure Trove of Inspiration
Ever had a great song idea in the shower and forgot it by the time you're dressed?
That's where a song idea journal comes in.
It's like a safety net for your ideas, capturing them before they float away.
7. Collaborate with Other Musicians - United We Jam
Why navigate the songwriting journey alone when you can team up with fellow travelers?
Collaborating with other musicians opens up new perspectives, new ideas, and new approaches.
It's like having a creative brainstorming session with every jam.
8. Leverage Technology and Songwriting Tools - The Future at Your Fingertips
Not a tech-savvy person?
No worries!
Today's songwriting tools are easy to use and incredibly powerful.
They're like a Swiss army knife for songwriters - everything you need, all in one place.
9. Regularly Review and Revise Your Work - The Polish That Makes Your Songs Shine
Think of your first draft as a diamond in the rough.
It's valuable, but it needs polishing.
Reviewing and revising your work helps refine your ideas, streamline your melodies, and sharpen your lyrics.
It's like a magic touch that turns your good songs into great ones.
10. Practice, Practice, Practice - The Golden Rule
Remember how hard it was to play your first chord or write your first lyric?
But with practice, it became second nature, right?
Just like playing an instrument, songwriting is a skill that gets better with practice.
So, don't wait for inspiration to strike.
Write regularly, write fearlessly, and watch your songwriting speed soar.
Conclusion
Tripling your songwriting speed isn't about taking shortcuts or churning out mediocre songs.
It's about mastering techniques that boost your efficiency, sharpen your skills, and deepen your understanding of the songwriting process.
So, why wait?
Put these tips into practice and unlock a whole new level of songwriting prowess.
Remember, your songwriting journey is unique, and so is your pace.
So, don't stress about how fast you're going.
Focus on moving forward, one song at a time.
Follow Speed Songwriting on Social Media
Take a couple of seconds and follow Speed Songwriting on social media.
FAQ
Q1: Can I really triple my songwriting speed without sacrificing quality
Absolutely! The techniques mentioned here are designed to streamline your process, not compromise your song quality.
Q2: What if these tips don't work for me?
Songwriting is a deeply personal process. If something doesn't work for you, don't sweat it. Modify it, replace it, or ditch it. Find what works for you.
Q3: I'm just a beginner. Can I still use these tips?
Of course! These tips are universal. Whether you're a beginner or an experienced songwriter, you can use these techniques to boost your songwriting speed.
Q4: Do I have to use all these tips at once?
Not at all. Start with one or two tips and gradually incorporate others as you go along. Remember, it's about progress, not perfection.
Q5: I'm not tech-savvy. Can I still increase my songwriting speed?
Definitely! While technology can be a great aid, it's not the only way to improve your songwriting speed. Techniques like keeping a song idea journal or setting a writing schedule can also significantly boost your efficiency.