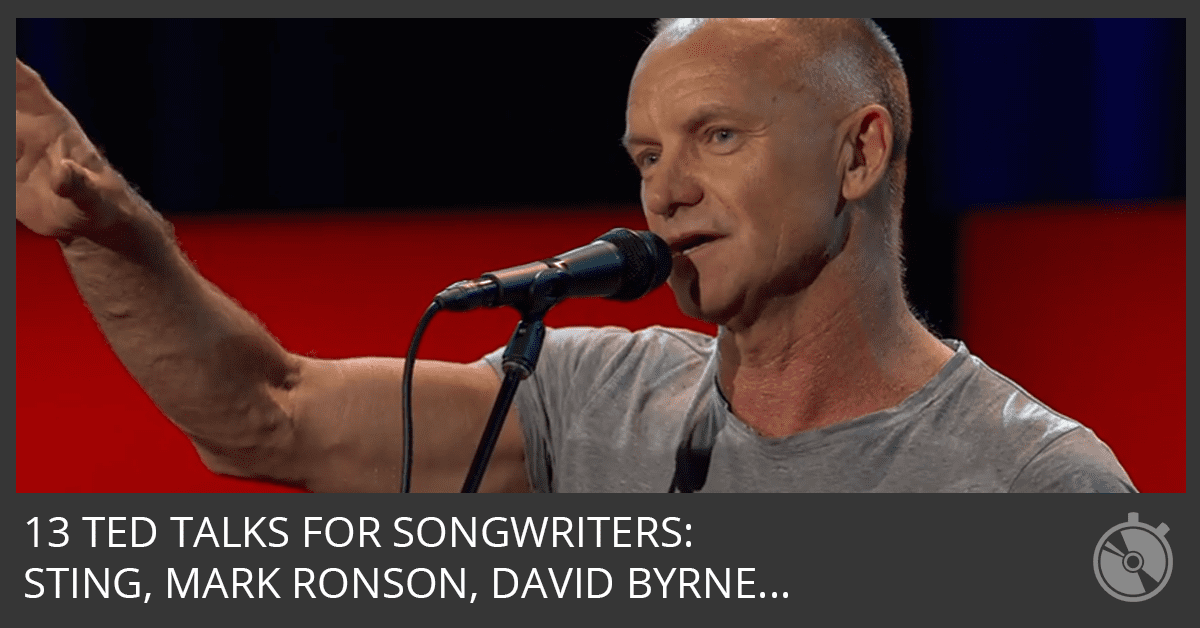 TED has been generous to musicians!
TED began as a conference in the 80s (Technology, Entertainment, and Design). They've expanded over the years to share all "ideas worth spreading" and they have a giant impact in sparking important conversations.
Here are 13 TED Talks to help motivate and inspire you to become a better songwriter…

Sting's early life was dominated by a shipyard—and he dreamed of nothing more than escaping the industrial drudgery. But after a nasty bout of writer's block that stretched on for years, Sting found himself channeling the stories of the shipyard workers he knew in his youth for song material. In a lyrical, confessional talk, Sting treats us to songs from his upcoming musical, and to an encore of "Message in a Bottle."

Elizabeth Gilbert muses on the impossible things we expect from artists and geniuses — and shares the radical idea that, instead of the rare person "being" a genius, all of us "have" a genius. It's a funny, personal and surprisingly moving talk.

Nothing is original, says Kirby Ferguson, creator of Everything is a Remix. From Bob Dylan to Steve Jobs, he says our most celebrated creators borrow, steal and transform.
https://ted.com/talks/view/id/1923

Ready to dance in your seat? Drummer Clayton Cameron breaks down different genres of music—from R&B to Latin to pop—by their beats. A talk that proves hip hop and jazz aren't cooler than math—they simply rely on it.

In this soaring demonstration, deaf percussionist Evelyn Glennie illustrates how listening to music involves much more than simply letting sound waves hit your eardrums.

Sampling isn't about "hijacking nostalgia wholesale," says Mark Ronson. It's about inserting yourself into the narrative of a song while also pushing that story forward. In this mind-blowingly original talk, watch the DJ scramble 15 TED Talks into an audio-visual omelette, and trace the evolution of "La Di Da Di," Doug E. Fresh and Slick Rick's 1984 hit that has been reimagined for every generation since.

As his career grew, David Byrne went from playing CBGB to Carnegie Hall. He asks: Does the venue make the music? From outdoor drumming to Wagnerian operas to arena rock, he explores how context has pushed musical innovation.

In this epic overview, Michael Tilson Thomas traces the development of classical music through the development of written notation, the record, and the re-mix.

Mark Applebaum writes music that breaks the rules in fantastic ways, composing a concerto for a florist and crafting a musical instrument from junk and found objects. This quirky talk might just inspire you to shake up the "rules" of your own creative work. (Filmed at TEDxStanford.)

Why do we ever stop playing and creating? With charm and humor, celebrated Korean author Young-ha Kim invokes the world's greatest artists to urge you to unleash your inner child — the artist who wanted to play forever. (Filmed at TEDxSeoul.)

At her first museum job, art historian Sarah Lewis noticed something important about an artist she was studying: Not every artwork was a total masterpiece. She asks us to consider the role of the almost-failure, the near win, in our own lives. In our pursuit of success and mastery, is it actually our near wins that push us forward?

In this funny and blunt talk, Larry Smith pulls no punches when he calls out the absurd excuses people invent when they fail to pursue their passions.

Have you ever been waiting in line at the grocery store, innocently perusing the magazine rack, when a song pops into your head? Not the whole song, but a fragment of it that plays and replays until you find yourself unloading the vegetables in time to the beat? Elizabeth Hellmuth Margulis explores earworms — a cognitive phenomenon that plagues over 90% of people at least once a week.

Outstanding! I chose these specific TED Talks because they help demonstrate the beliefs and values of Speed Songwriting:
Writing breaks writer's block
Get over yourself
Master time and rhythm
Listen deeply without prejudice
Music is bigger and deeper than pop charts
Music and art are for everybody
Your mind has secrets to be discovered
Be human, flaws and everything
Challenge yourself
Play
One last thing to add…
Songwriters write.