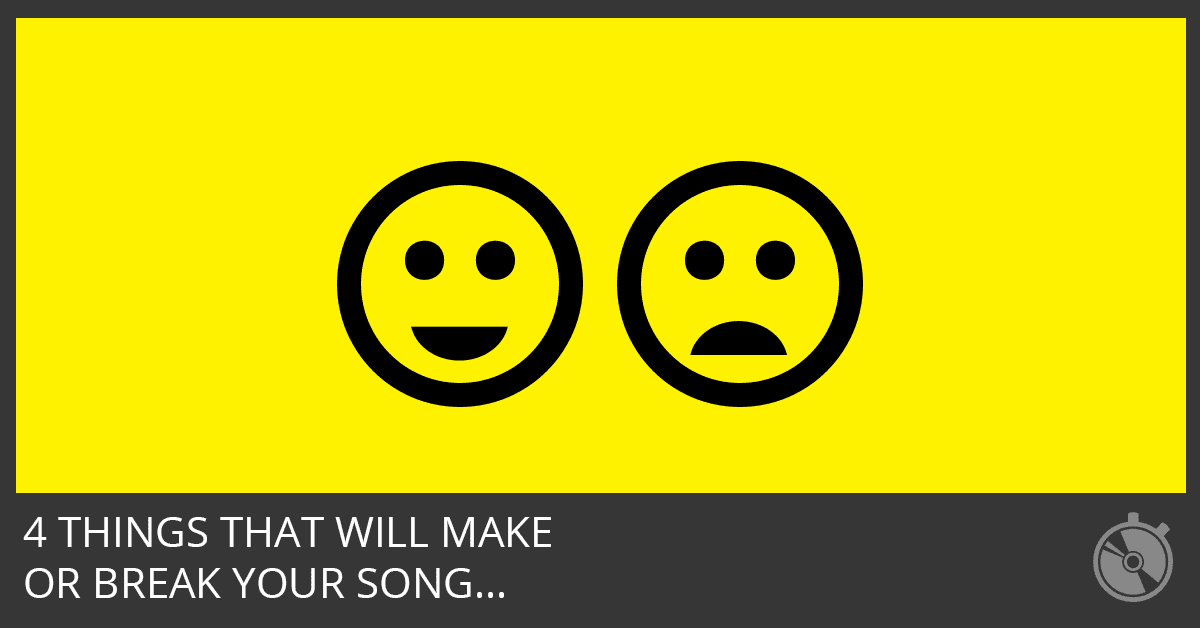 Learn these 4 tricks to help you write the best songs of your life. It will take you just 10 minutes to learn, too.
1. The First 10 Seconds
Imagine being inside the mind of a busy A&R guy or in-demand producer…
It's running over important decisions to make, artists to direct and develop, managers to call back, record execs to please, and they probably have a personal life to take care of on top of everything else.
Let's say that all the stars are lined up for you and your demo is in their hands. They pop it in the CD player and press play…
This is the crucial moment. As they say, "you only get one chance to make a first impression." What first impression do you give?
Give your listener a musical and rhythmic hook to grab onto right away.
Head over to the Billboard charts and play the first 10 seconds of the top 10. Notice the elements that pull you in. Is it the beat? Is it a melody or the harmony? Notice where they fail to pull you in. (After all, just because the song is on the charts does not mean it's a great song!)
Now, knowing that you probably don't have the clout of a currently charting artist, don't make your listener wait 30 seconds to get to the meat of your song. Mix an extended version for you and your friends if you must, but keep only what's absolutely necessary for everyone else.
You will gain serious points for considering the busy schedule of someone who listens to songs for a living.
2. The Chorus
The chorus is the emotional high point of your song. Therefore, you want it to feel like it lifts.
A simple way to provide a lift in the chorus is to write a melody that reaches it's highest note during the chorus — preferably the very first note, a natural spotlight — and write the melody of the verse to lead into the chorus from below.
One of the biggest mistakes I hear is a melody that peaks at the end of the verse and then drops into the chorus where it gives the listener a sense of falling energy, the exact opposite of what you want to do.
Your chorus, if you want it to be memorable, should be easy to sing along with and it should contrast the other sections.
A strong chorus needs different elements than what came before, both musically and lyrically. Give your chorus a different melody, different harmony, different lyric, and a different form than the other sections of your song.
Make your chorus stand out.
3. The Collaboration
I grew up in the age of Prince, the wonder-kid who played every instrument, wrote all the songs, sang all the vocals, and on top of all that, he danced his butt off.
Me, I'm a mere mortal. I'm good at a number of things, bad at even more, and I excel at maybe a few diverse skills. I continually improve my weaknesses, strengthen my strengths, and for everything else that I'm not good at, I enlist the help of someone better than me.
Two minds are (usually) better than one.
In the process of collaboration, I get commitments and agreements in writing, I pick and choose my battles, and I still take responsibility for the end result. Do the same and your co-writers will trust you and like working with you.
Nobody wants to work with an argumentative artist who can't take criticism and blames everyone else for the song's failures.
Be a class act. Act like a pro (even if you're not in it for the money).
4. Confusing Mystery with Obscurity
Riddles are great… as long as you get permission first.
If a stranger were to start a conversation with you and expect you to know their entire backstory and get all their inside jokes, you'd think that the stranger was an arrogant and out-of-touch narcissist.
Don't test your listener's patience right from the start or assume that they care to do the autobiographical research to decode what you're talking about.
Show, don't tell is a technique often employed in various kinds of texts to enable the reader to experience the story through action, words, thoughts, senses, and feelings rather than through the author's exposition, summarization, and description. The goal is not to drown the reader in heavy-handed adjectives, but rather to allow readers to interpret significant details in the text. The technique applies equally to nonfiction and all forms of fiction, literature including Haiku[1] and Imagism poetry in particular, speech, movie making, and playwriting.
Use the five senses to keep your listener involved and avoid writing about an experience, write from the experience.
Write as if you are inside the emotion of your song. Then show us what it looks like, feels like, sounds like, smells like, and tastes like.
Understand and master these 4 elements of your songwriting and watch your listener appeal skyrocket. (I go over all of them in the Speed Songwriting System.)