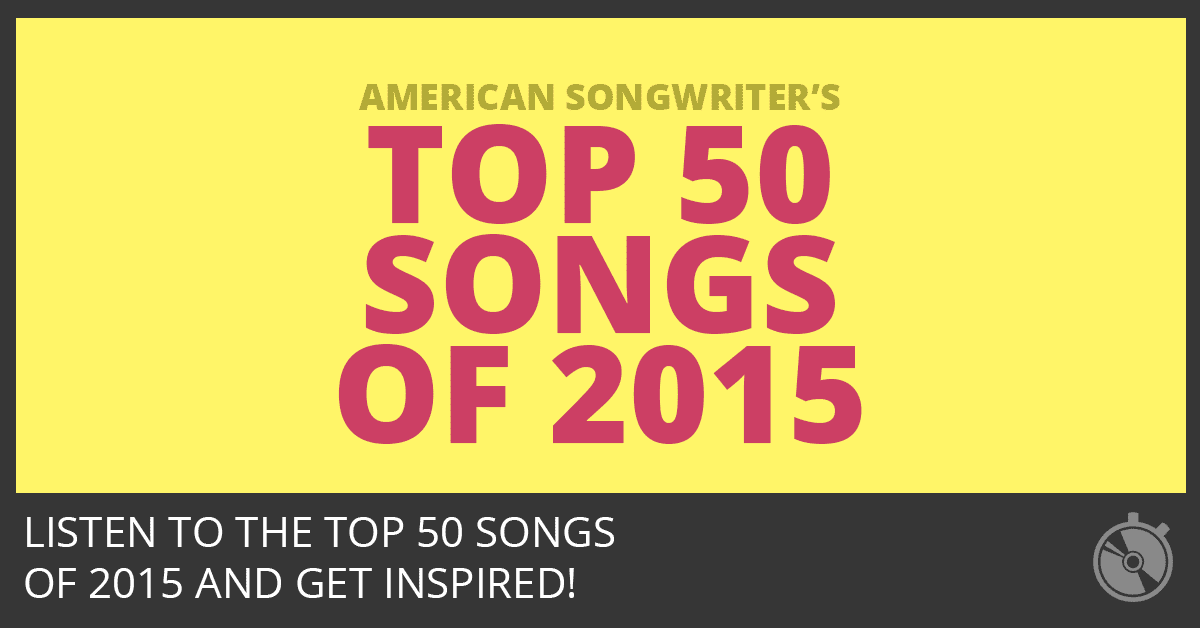 I always enjoy checking out the "best of" roundups at the end of the year.
As a songwriter and growing musician, I think it's important to listen to music outside of your comfort zone. Pitchfork and NPR always introduce me to songwriters and new music that I haven't heard before.
Here's a new list (and Spotify playlist) from American Songwriter.
American Songwriter's Top 50 Songs of 2015
1. Dawes: "All Your Favorite Bands"
2. Courtney Barnett: "Depreston"
3. Kacey Musgraves: "Dime Store Cowgirl"
4. Dave Rawlings Machine: "The Trip"
5. Ashley Monroe: "The Blade"
6. Craig Finn: "Maggie, I've Been Searching For Our Son"
7. Car Seat Headrest: "Something Soon"
8. The Deslondes: "The Real Deal"
9. Jessica Pratt: "Greycedes"
10. Alabama Shakes: "Don't Wanna Fight"
11. Bully: "I Remember"
12. Sleater-Kinney: "Surface Envy"
13. Torres: "Strange Hellos"
14. Kendrick Lamar: "Alright"
15. Chris Stapleton: "Traveller"
16. Lucero: "Went Looking For Warren Zevon's Los Angeles"
17. Corb Lund: "S Lazy H"
18. Wilco: "Random Name Generator"
19. James McMurtry: "Forgotten Coast"
20. Natalie Prass: "Why Don't You Believe in Me?"
21. Bottle Rockets: "Monday Every Time I Turn Around"
22. John Moreland: "Heart's Too Heavy"
23. Royal Headache: "My Own Fantasy"
24. My Morning Jacket: "Compound Fracture"
25. Patty Griffin: "Rider of Days"
26. Jason Isbell: "To a Band I Loved"
27. Kurt Vile: "That's life, tho (almost hate to say)"
28. Sarah Bethe Nelson: "Paying"
29. Will Johnson: "Call Call Call"
30. Andrew Combs: "Foolin'"
31. Lilly Hiatt: "Somebody's Daughter"
32. Low: "What Part of Me"
33. Bjork: "Stone Milker"
34. Joan Shelley: "Over and Even"
35. Roadside Graves: "Gospel Radio"
36. Mavericks: "All Night Long"
37. Joe Pug: "Great Hosannas"
38. Leon Bridges: "Coming Home"
39. Twerps: "I Don't Mind"
40. Florence + the Machine: "Ship to Wreck"
41. Calexico: "Tapping on the Line"
42. Maddie & Tae: "Shut Up and Fish"
43. Elephant Micah: "Demise of the Bible Birds"
44. Father John Misty: "Chateau Lobby 4 (in C for Two Virgins)"
45. Sufjan Stevens: "Should Have Known Better"
46. Son Little: "Go Blue Blood Red"
47. Mount Moriah: "Calvander"
48. Brent Best: "Queen Bee"
49. Willie Nelson & Merle Haggard: "It's All Going to Pot"
50. Titus Andronicus: "Dimed Out"
But there are songs missing from that list…
One of the songs on that list should be yours!