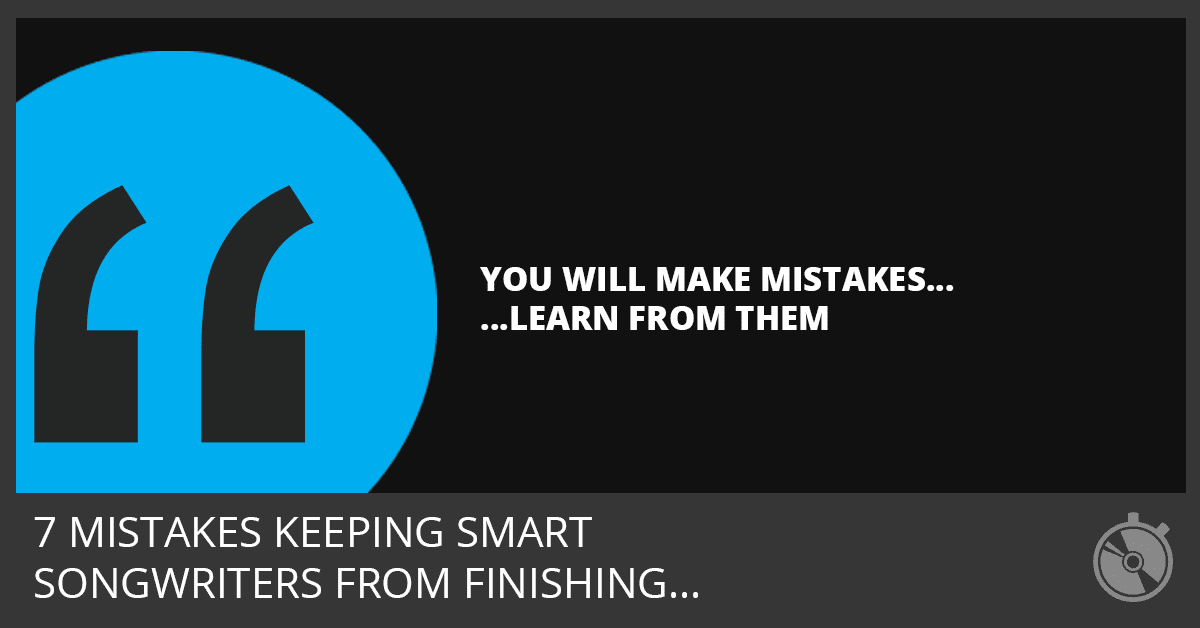 Do you make these songwriting mistakes?
They're common and cliché...and I've made every single one of them.
And they could be holding you back from finishing songs.
Songwriting Mistake #1 – Writing the music first
This one's controversial. It's not like you can't write a song from the music first. But when the lyrics are an afterthought, it's much harder.
Most songwriters are musicians first. They know how to play an instrument and sometimes they can sing. So they come up with lots of ideas at their instrument or while singing.
But then they have to turn it into a song. That's where they get stuck.
It's much easier to start with a lyrical concept and then write the music around that. Every songwriter I've coached to do it this way has agreed with me.
Musical ideas to a musician are a dime a dozen. Lyrical ideas and song concepts separate the great from the good.
Songwriting Mistake #2 - Not having a song plot
Somehow, you have to keep a listener's attention for a few minutes. Your music and groove hooks them in the beginning but your lyrics keep the average listener's attention the rest of the way.
Again, you're probably a musician first. So you think and listen musically. Listeners aren't always musicians and they listen to what they know best, the words.
Having a song plot keeps your listener connected to the story and big idea. A song plot provides contrast between sections so they don't get bored. A song plot helps your second verse develop differently than the first so your listener notices and pays attention.
A single song plot can generate an infinite number of songs.
Here are 10 song plots to inspire your songwriting right now...
Songwriting Mistake #3 - Not having a clear idea of what to do next
When I critique the workflow of songwriters who aren't productive, we always find moments when they don't know what to do next.
That's when they try to either power through it or switch to doing something else. Neither strategy works 9 out of 10 times.
Forcing inspiration is like forcing the sun to shine. It shines when it damn well pleases. Switching to do something else is really just a form of procrastination.
When you know every action required to complete a song, knowing what to do next is a very simple decision.
Songwriting Mistake #4 - Rejecting formulas
The smartest songwriters want to be original. That's an important goal but unless you're plagiarizing, you can't help but be original. No other song will be exactly like yours.
Understand exactly what it means to be original and unique. It doesn't mean that you have to reject any and all ideas that came before you.
You still use the same notes, chords, and words that every other musician has access to. Using chord progressions and other musical patterns that already exist is similar to using sentences and paragraphs when writing.
Structures and patterns in nature exist. Don't fight them. Play with them.
Songwriting Mistake #5 - Not listening to music outside your genre
If you really want to be original, then you need to open your mind to ideas different than yours.
Nobody likes a hater. I have a friend who likes saying crazy things like the Beatles and Eric Clapton are overrated. I always jab back, "it's better than not being rated at all."
Humility wins when working with other people. Being cocky can be funny when it's lighthearted, but it can also be downright mean and shortsighted.
Be a sponge. Listen without judgment. Critical listening is perfectly acceptable. But so is acceptance and understanding. You'll only expand your musical experience by listening outside your comfort zone.
Songwriting Mistake #6 - Editing too much and too soon
I don't edit until the end. I grab ideas fast and loose in the early stages. Don't worry about capturing cliches or finding the perfect tone.
Don't destroy the creative flow by using the editor's mind.
Stream of consciousness works best. Set your mind on an idea and write it out without judgment.
When you have a lot of material to work with, you can put on the arranger's hat and shape it and decide what to keep and what to throw away. Put your editor's hat on at the very end when you need to get detailed, like improving verbs for power and tone.
Songwriting Mistake #7 - Never finishing a bad song
You're gonna write some stinkers. But there is always a good idea in there that you can steal for the next thing or something down the line. All is not lost by writing a bad song.
Finishing a bad song won't take long if you correct some of your mistakes. And the confidence that comes from completing something outweighs the time it takes to create it, even if it ends up being thrown away.
I used to sit on great ideas because I could tell that they wouldn't come out perfect. I could have used those ideas down the road but I shelved them, thinking I would salvage the song someday.
Now, I finish everything fast and steal what works. That's how you build an enormous swipe file that never runs dry.
In the Speed Songwriting System, I show people how to finish songs in a single sitting without any writer's block. A dozen song later, even if only a few of the songs are keepers, the rest are rungs on the ladder to much better writing.