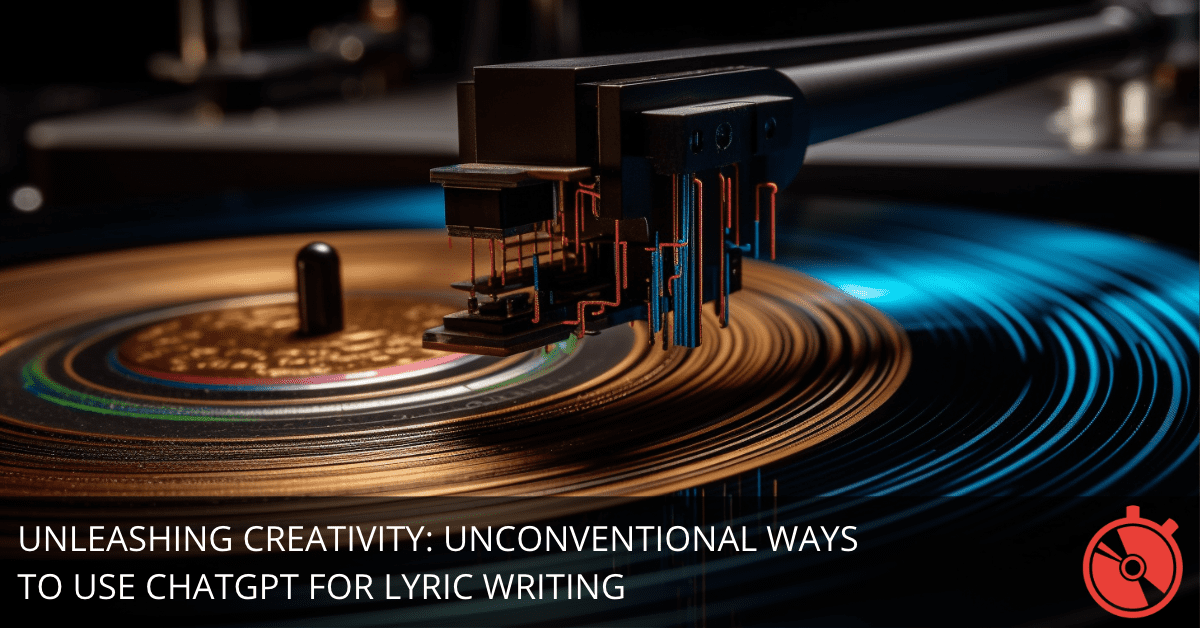 Every songwriter, whether a novice or a seasoned pro, sometimes finds themselves in a rut.
But have you ever considered that an AI could be your muse?
Welcome to the era of using AI to break new ground in songwriting.
Let's explore the uncharted waters of lyric writing with ChatGPT!
Converting Existing Lyrics into Different Styles with ChatGPT
We've all seen cover songs take a life of their own simply by presenting the original lyrics in a different musical style.
But what if AI could do the same for us - translate lyrics into different writing styles?
Sounds intriguing, right?
Let's dig deeper!
ChatGPT can transform your existing lyrics into different writing styles, be it from pop to blues, country to rap, or anything in between.
Just feed in your lyrics and specify the style you're aiming for, and let ChatGPT recreate your lyrics in a brand-new style.
How cool would it be to hear your soulful ballad converted into a catchy pop anthem?
Or your upbeat country tune turned into a deep, resonating blues number?
The beauty of this process is that you're not limited to your own styles.
Try the styles of Bob Dylan, Adele, or BTS.
You might stumble upon a style transformation that resonates with your audience in ways you've never imagined!
Here are some lyrics to my existing song:
[Insert lyrics]
I would like to see these lyrics translated into [insert style].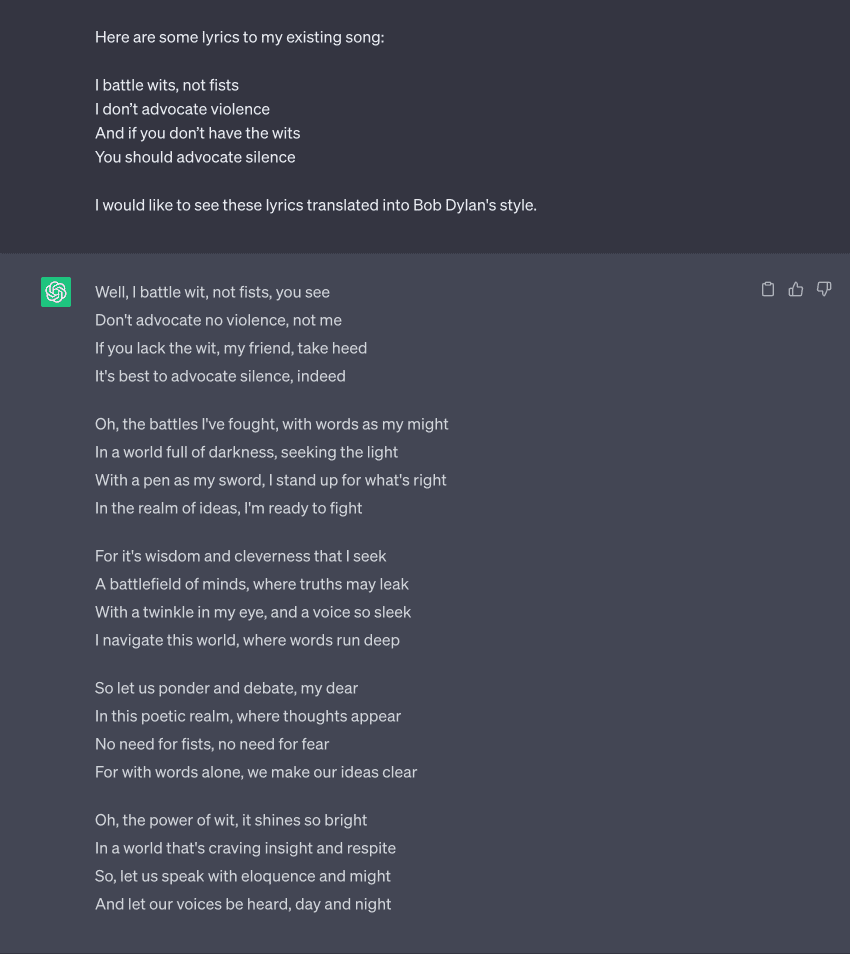 Let's Mix It Up: Merging Two Different Songs with ChatGPT
Ever found yourself humming two different songs, only to find their tunes converging in your head?
That's your brain finding unique connections, trying to create something new.
Now imagine if you had an AI tool that could do that for your lyrics!
With ChatGPT, you can merge lyrics from two different songs to create an interesting mashup.
Just provide two sets of lyrics and let ChatGPT find the common thread and blend them into a unique lyrical composition.
It's like cooking, where the right ingredients in the right proportions create a delightful dish!
Experiment with your own lyrics, or even try merging lyrics from two different artists.
The possibilities are limitless.
And the best part?
You might end up creating a completely unique genre that sets your music apart!
I have two different songs here, and I'm interested in merging them to create something unique.
The first song's lyrics are:
[Insert lyrics]
The second song's lyrics are:
[Insert lyrics]
Please merge these two songs into a single, cohesive lyrical composition.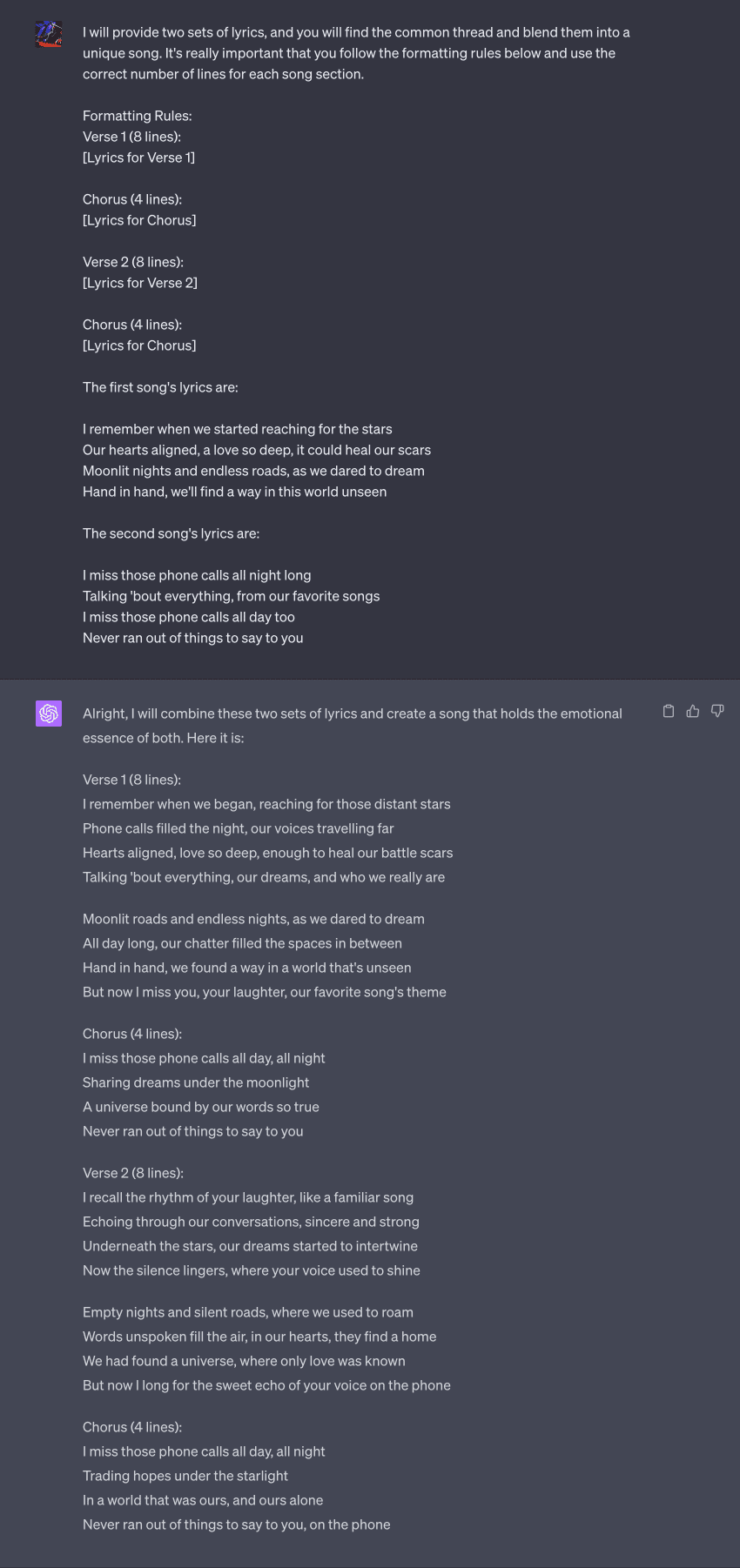 Unleashing the Song Within: Turning Non-musical Texts into Lyrics with ChatGPT
Books, speeches, poems - they all tell a story, don't they?
They evoke emotions, paint vivid pictures, and make us think.
What if these texts could be transformed into song lyrics?
That's another creative challenge ChatGPT is ready to take on!
Feed in your favorite text - it could be a poignant paragraph from a novel, a powerful speech by a leader, or a thought-provoking poem.
Ask ChatGPT to transform this text into song lyrics.
Voila! You now have a unique set of lyrics that carry the essence of the original text but in a melodious format.
This not only provides a fresh perspective on the original text but also allows you to explore a variety of themes and emotions in your lyrics.
It's like finding hidden treasure in a text and letting it shine in a whole new light!
I have this text from a non-musical source that I would like to transform into song lyrics. Here it is:
[Insert text]
Please help me rewrite this into a unique set of song lyrics.
Painting with Words: Creating Lyrics from Visual Descriptions with ChatGPT
A picture is worth a thousand words.
But how many lyrics can it inspire?
With ChatGPT, the answer is a whole song!
By creating lyrics from visual descriptions, you can explore new realms of creativity.
Provide a detailed visual description or even a set of emotions that a picture or scene invokes in you.
Let ChatGPT weave a lyrical tale out of it.
This method not only enhances your lyrical creativity but also improves your storytelling abilities.
It's like turning your lyrics into a canvas, where each word paints a vibrant stroke!
This method can be especially useful when you're trying to convey a specific emotion or set a particular mood.
Your listeners will be able to "see" your lyrics, which can make your song even more impactful.
I have a visual scene that I'd like to translate into song lyrics. The scene is this:
[Insert scene]
Please weave this visual description into a song that conveys the same emotions and paints a vivid picture for the listener.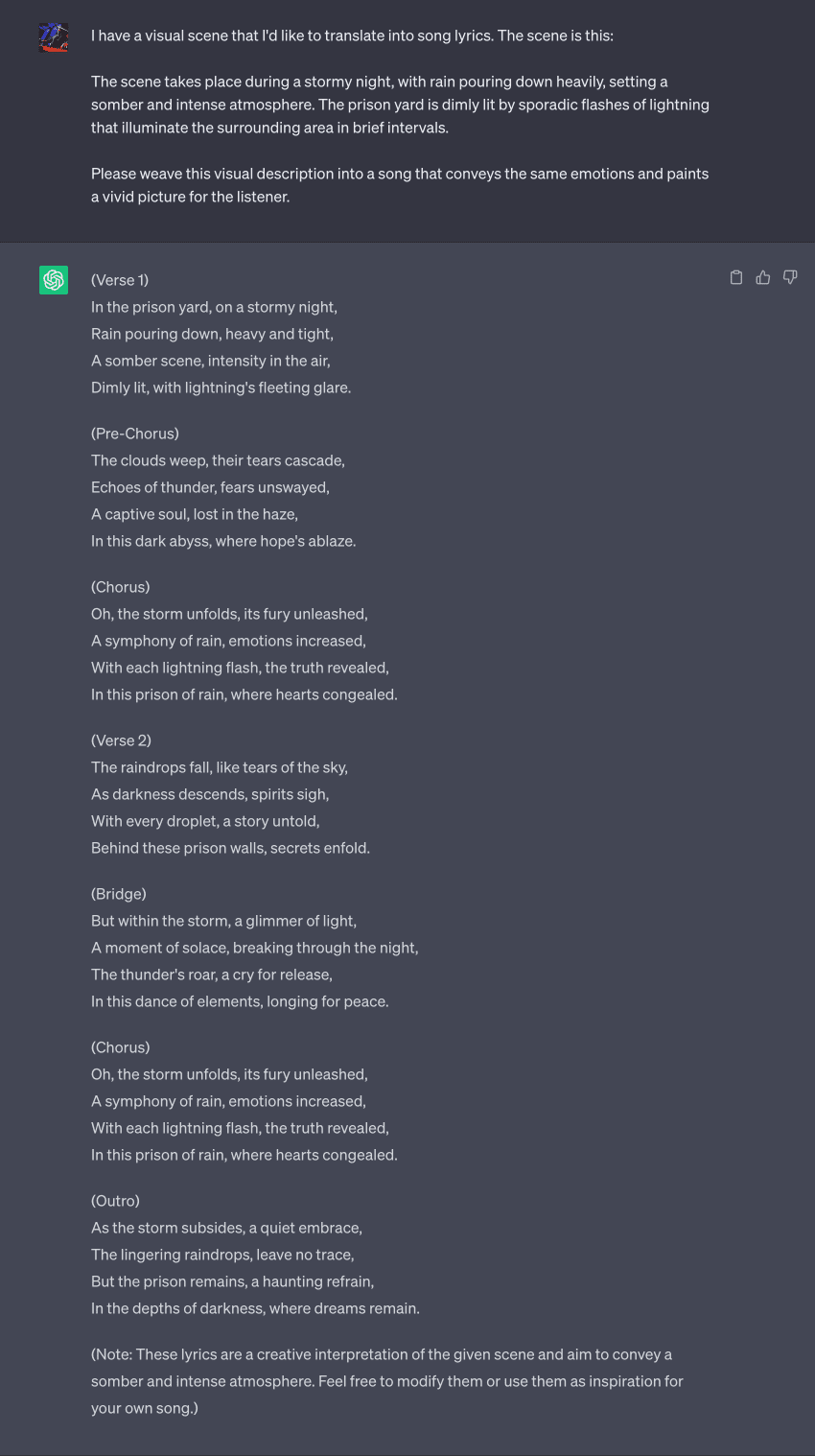 Sing It in Spanish, French, and More: Creating Multilingual Lyrics with ChatGPT
Music transcends boundaries and languages.
So, why should your lyrics be confined to just one language?
With ChatGPT, you can create multilingual lyrics that cater to a global audience.
Give your lyrics a global appeal by introducing a new language or translating a part of your song into another language.
Not only does this add an element of surprise to your song, but it also helps you reach a wider audience and make a stronger connection with them.
This can be especially useful if you're trying to break into a new market or if you have a multilingual fanbase.
It's like a passport for your lyrics, letting them travel and resonate across different cultures!
I have a song that I would like to make more globally appealing by introducing another language. Here are the lyrics:
[Insert lyrics]
Please help me create a multilingual version of this song, either by translating part of it or incorporating a new language into the lyrics.
Conclusion
When creativity meets technology, the results can be truly extraordinary.
ChatGPT is not just an AI; it's a tool that can enhance your songwriting skills, break the conventions, and help you create lyrics that resonate with your listeners on a whole new level.
So why stick to the conventional when you can take the unconventional route and set a new trend?
Happy songwriting!
---
Frequently Asked Questions
Q1: Can I use ChatGPT for free?
Yes, OpenAI provides a free tier for ChatGPT, although there is also a paid option with more features and fewer limitations.
Q2: Can ChatGPT help me improve my songwriting skills?
Absolutely! It can help you explore new styles, merge songs, convert non-musical texts into lyrics, create lyrics from visuals, and write multilingual lyrics.
Q3: How does ChatGPT create lyrics from visual descriptions?
You provide a detailed visual description or the emotions a picture invokes in you, and ChatGPT generates lyrics based on that.
Q4: Can I use ChatGPT to translate my lyrics into different languages?
Yes, ChatGPT is capable of translating lyrics into multiple languages.
Q5: Can ChatGPT help me merge two songs into one?
Yes, you can provide lyrics from two different songs, and ChatGPT can merge them into a unique lyrical composition.