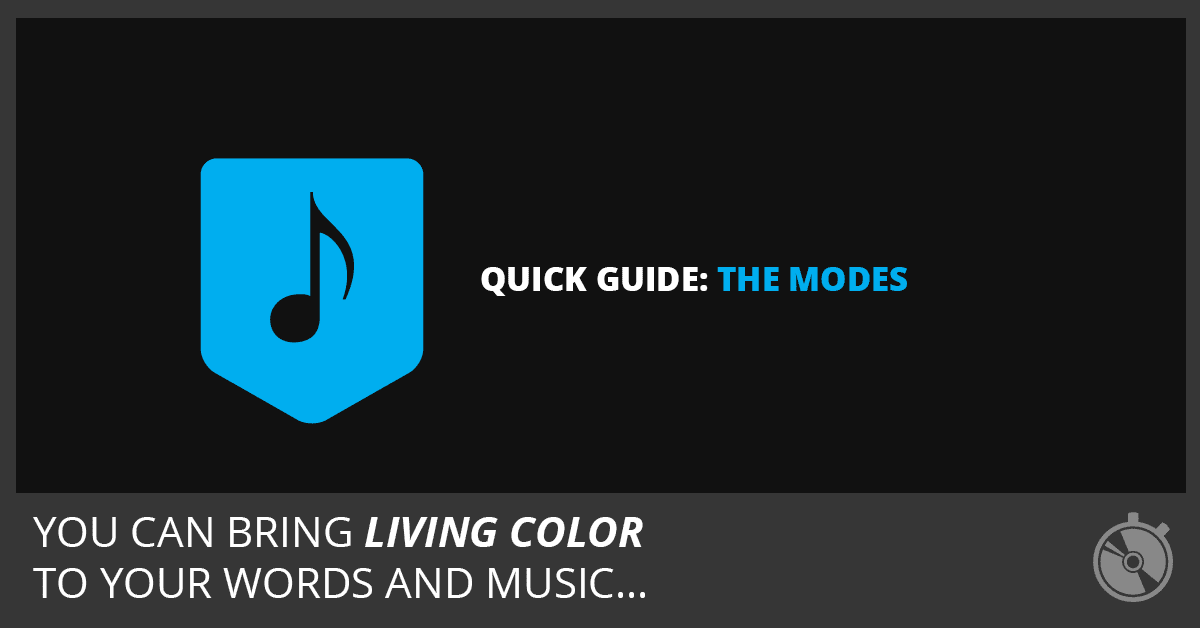 Here's how modes can inspire your songwriting…
If you have even the smallest idea what your song is about, you can guess the broad tone and mood of your song.
Your song's mood should suggest one or two modes. You can pull chord progressions and melodies from these modes to begin your songwriting.
When you narrow your options to only the best modes for the song, you give your songwriting a clear direction. You also save yourself from losing momentum and inspiration!
Songwriting With Modes
The tone-scale I like to use goes from bright to dark:
Lydian: Bright
Lydian is bright. It has one altered note from the neutral Ionian mode, the raised 4th scale degree.
Ionian: Neutral
Ionian is neutral. It's the basic major scale every musician knows (or should know). When I say the other modes have altered scale degrees, I'm comparing them to this mode.
Mixolydian: Less Bright
Mixolydian has a lowered 7th scale degree. It's less bright than Ionian and hasn't quite reached the dark status of Dorian.
Dorian: Dark
Dorian has a lowered 3rd and 7th scale degree. The minor third gives it a darker edge.
Aeolian: Darker
Aeolian has lowered 3rd, 6th, and 7th scale degrees. It's darker than Dorian and brighter than Phrygian.
Phrygian: Darkest
Phrygian is the darkest mode. It has lowered 2nd, 3rd, 6th, and 7th scale degrees. It isn't used much in pop but it's heard in heavier or dark and moody sounding music.
Locrian: Mostly Unusable
It's pretty safe to skip the Locrian mode unless you want to experiment. Locrian has lowered 2nd, 3rd, 5th, 6th, and 7th scale degrees.
Ionian, Lydian, and Mixolydian are the major modes. Dorian, Aeolian, Phrygian, and Locrian are the minor modes. A few other modes get used a lot: Major Pentatonic, Minor Pentatonic, Major Blues Scale, and Minor Blues Scale.
You can attach other "mood words" to these modes:
Ionian: Good Time, Positive
Dorian: Sexy, Edgy
Phrygian: Defiant, Introspective
Lydian: Triumphant, Sharp
Mixolydian: Bluesy, Fun
Aeolian: Melancholy, Dramatic
Locrian: Gloomy, Restless
With just a little exploration, you can bring living color to your words and music. Share your own "mood words" in the comments below.
If you follow my songwriting method, you'll be doing less work which gives you more time to enjoy the process of songwriting.