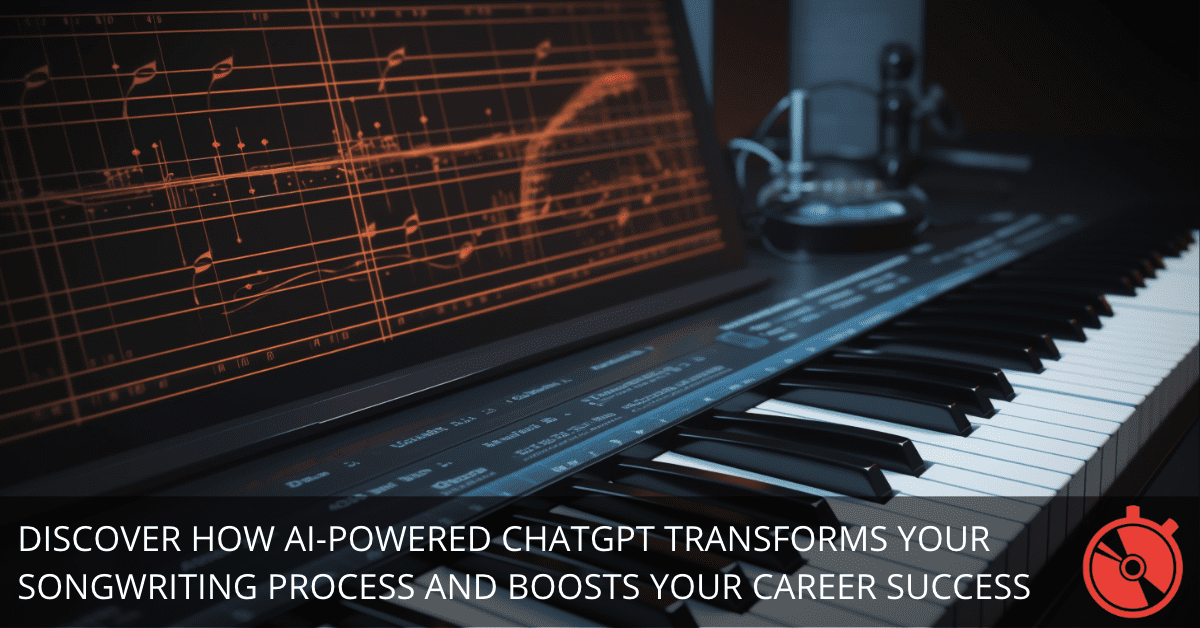 Introduction: Embracing ChatGPT as a Game-Changer in Songwriting
As a songwriter, you're always looking for ways to take your craft to the next level. You want to create memorable tunes that resonate with your audience and leave a lasting impact.
The good news? ChatGPT, an innovative language model developed by OpenAI, is here to revolutionize the songwriting process.
This article will dive deep into seven compelling reasons why ChatGPT is the ultimate tool for songwriters like you.
Reason 1: Enhancing Creativity – Unleash Your Inner Genius
Kiss Writer's Block Goodbye
You know the feeling. You're staring at a blank page, and the words just won't come. But with ChatGPT, you can bid farewell to writer's block. Instead, it generates unique lyrical ideas and kickstarts your creative process, getting the words flowing and the inspiration rolling.
Discover New Writing Styles and Techniques
Do you ever find yourself stuck in a rut, writing the same type of songs over and over? ChatGPT encourages experimentation and helps you explore different writing styles and techniques. It can mimic various genres and lyricists, giving you a fresh perspective and opening up a world of creative possibilities.
Reason 2: Time-saving and Efficiency – Work Smarter, Not Harder
Accelerate the Writing Process
With ChatGPT, you'll save precious time on the writing process. Instead of spending hours or days refining your lyrics, you can get a head start with ChatGPT's suggestions. It's like having a co-writer always available to bounce ideas off of or help you finish a verse when you're stuck.
Streamline Collaboration with Co-Writers
Working with other songwriters? ChatGPT can be a valuable asset. It simplifies communication and collaboration by offering lyrical ideas you and your co-writers can build upon—no more endless back-and-forth or waiting for someone to get back to you with their input. ChatGPT is ready to contribute whenever you need it.
Reason 3: Improving Song Structure – Give Your Songs the Perfect Shape
Identify and Fix Structural Issues
A well-structured song is essential for capturing your audience's attention. ChatGPT can analyze your lyrics and identify any structural issues that need fixing. It can suggest ways to improve your verses, choruses, and bridges, ensuring your songs have the perfect balance and flow.
Assisting with Transitions and Bridges
Transitions and bridges are crucial for connecting different parts of your song and creating a cohesive listening experience. ChatGPT can provide suggestions for smooth transitions, helping you create songs that flow seamlessly from start to finish.
Reason 4: Personalized Learning and Growth – Unlock Your Full Potential
Analyze Strengths and Weaknesses
ChatGPT isn't just a tool for writing songs; it's also a powerful resource for personal growth. It can analyze your songwriting style and identify areas where you excel and areas that need improvement. By understanding your strengths and weaknesses, you can focus on honing your skills and becoming a better songwriter.
Get Targeted Feedback
Feedback is essential for growth, and ChatGPT delivers. It provides constructive criticism and specific suggestions to help you polish your lyrics and refine your songwriting skills. With this personalized feedback, you can make targeted improvements and elevate your craft to new heights.
Recommended Resources for Improvement
Your journey as a songwriter is ongoing, and ChatGPT is here to support you. It can recommend resources like books, articles, and tutorials to help you expand your knowledge and sharpen your skills. With these resources at your fingertips, you'll never stop learning and growing as a songwriter.
Reason 5: Expanding Musical Horizons – Step Outside Your Comfort Zone
Experiment with Different Genres
As a songwriter, getting comfortable in a particular genre is easy. But stepping out of your comfort zone can unlock a wealth of creative potential. ChatGPT encourages you to experiment with different genres, allowing you to discover new styles, sounds, and techniques that can elevate your music.
Explore Various Themes and Concepts
Tired of writing about the same old topics? ChatGPT can help you branch out and explore new themes and concepts. It can generate ideas for unique and thought-provoking subjects, pushing you to write songs that truly stand out from the crowd.
Adapt to Changing Trends
The music industry is constantly evolving, and successful songwriters know how to keep up with the latest trends. ChatGPT can help you stay ahead of the curve by suggesting ideas that align with current popular styles, ensuring your songs remain fresh and relevant.
Reason 6: Networking and Collaboration Opportunities – Connect with Like-Minded Songwriters
Forge Connections with Other Creatives
Your network is essential for your growth as a songwriter. ChatGPT can connect you with like-minded creatives, opening up collaboration and mutual learning opportunities. Working with others allows you to expand your creative horizons and learn from their unique perspectives and experiences.
Facilitate Remote Collaborations
In today's digital age, remote collaborations are more common than ever. ChatGPT makes it easy to work with songwriters worldwide, transcending geographical barriers and broadening your musical horizons.
Engage in Constructive Critiques
By connecting with other songwriters, you can exchange constructive critiques and valuable feedback. ChatGPT can help facilitate these exchanges, providing you with new insights and ideas to improve your craft.
Reason 7: Monetization and Business Development – Turn Your Passion into Profit
Identify Potential Revenue Streams
Making a living as a songwriter can be challenging. ChatGPT can help you identify potential revenue streams, such as licensing opportunities, sync deals, or collaborations with established artists. With these insights, you can focus on the most lucrative avenues and maximize your income.
Pitch Songs to Artists and Producers
To get your songs heard, you need to pitch them to the right people. ChatGPT can assist you in crafting the perfect pitch, targeting artists and producers who might be interested in your work. By presenting your songs professionally and effectively, you'll increase your chances of landing a deal.
Guidance on Marketing and Promotion Strategies
Successful songwriters know how to market their work. ChatGPT can offer guidance on marketing and promotion strategies, helping you get your music in front of the right audience. Building a solid online presence and creating buzz around your songs will boost your chances of making a lasting impact in the industry.
Conclusion: Embrace the Future of Songwriting with ChatGPT
ChatGPT is the cutting-edge tool in this constantly evolving industry that can help you stay ahead of the game. By enhancing your creativity, streamlining the writing process, and opening up new opportunities for growth and collaboration, ChatGPT is the ultimate resource for songwriters seeking a breakthrough in their careers. So don't miss out on the chance to make music history – embrace ChatGPT and watch your career soar.
Frequently Asked Questions
Is ChatGPT difficult to use?
No, ChatGPT is designed to be user-friendly and intuitive. Even if you're new to AI-powered tools, you'll quickly get the hang of it and start reaping its benefits in no time.
Can ChatGPT replace human songwriters?
While ChatGPT is an incredible tool, it's not meant to replace human songwriters. Instead, it serves as a powerful assistant that enhances your creative process, helping you overcome challenges and develop your skills.
Is ChatGPT only useful for professional songwriters?
Not at all! ChatGPT can benefit songwriters at any level, whether you're a seasoned professional or just starting out. Its features cater to a wide range of needs, making it a versatile tool for anyone looking to improve their songwriting.
How can I access ChatGPT?
ChatGPT can be accessed through various platforms, including web applications and integrated software. Some platforms offer free access, while others provide premium features through subscription plans. To get started, simply search for a ChatGPT platform that best fits your needs.
Will ChatGPT work for any genre of music?
Absolutely! ChatGPT is adaptable and can generate ideas and suggestions for a wide range of musical genres. Its versatility makes it an invaluable resource for songwriters exploring new styles or breaking free from creative constraints.