Artificial Intelligence (AI) in music has been on the rise. With apps like ChatGPT and Jasper, AI is now being used to help musicians and lyricists easily create new songs.
This article will explore how AI can aid in the creative process of songwriting and discuss its implications for copyright law and ethical considerations. We'll look at how AI can generate ideas quickly and its potential benefits and drawbacks for musicians who wish to take advantage of this technology.
What is Artificial Intelligence, and what is its role in the music industry?
At its core, AI is software that can learn from data and act based on what it learns. This type of technology allows for an automated process of creating music. In songwriting, this means using AI to generate lyrics, melodies, and backing tracks quickly.
With Jasper, for example, inputting the right prompts will result in dozens of lines ready for use in a song.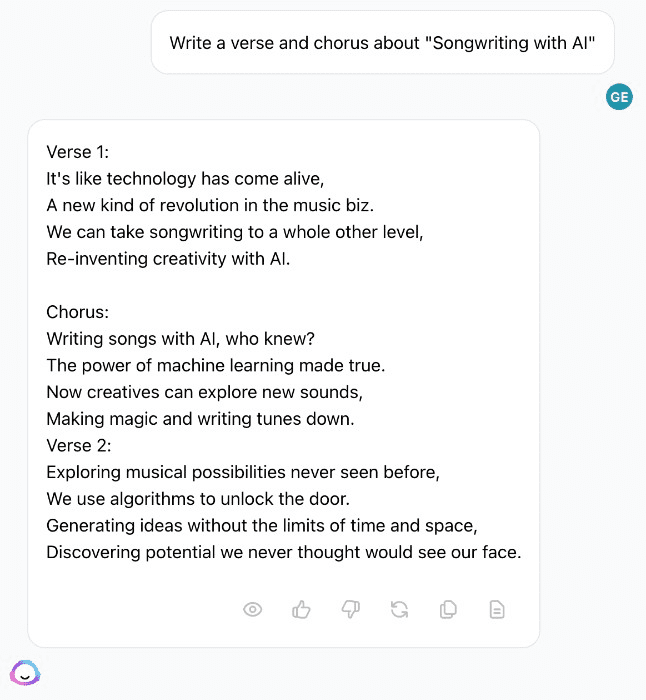 AI can also create new music and sounds that wouldn't otherwise be available to musicians.
Artists and producers are now capable of producing high-quality music much faster than ever before – this naturally has the potential for increased profits and allows for new channels for their music to be heard through streaming services.
Although this is hugely beneficial for the music industry, it does bring with it the potential pitfall of market saturation and commoditization. To combat this, new music must stand out from the competition.
How Is AI Currently Being Used To Help With Songwriting?
AI has become increasingly valuable for songwriters who want to come up with ideas for their next track quickly.
Apps such as ChatGPT and Jasper can generate lyrics and even complete songs based on input from the user. Furthermore, AI-powered platforms like Amper Music and AIVA provide customizable tracks to suit any style or mood. This makes it easy for you to experiment with different sounds without having to start from scratch every time.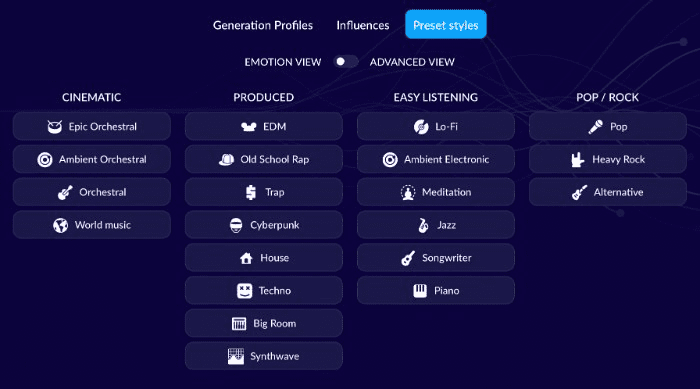 What Benefits Does AI Have for Songwriters?
These tools have made it easier for songwriters to create high-quality music quickly.
The potential benefits of this technology are endless. Whether you're an established artist looking to speed up your workflow or an aspiring producer just starting out in the industry, AI is a powerful aid that can help you achieve results faster than ever before.
Here are a few ways AI tools can benefit you:
Experimentation: AI-based tools can help you quickly explore and create different sounds that wouldn't otherwise be available to you.
Inspiration: By providing access to a vast range of ideas, AI is an invaluable source of inspiration for a songwriter.
Speed: With AI, it's possible to produce high-quality tracks quickly and efficiently – perfect for artists who have deadlines to meet or want to make a large amount of music in a short time.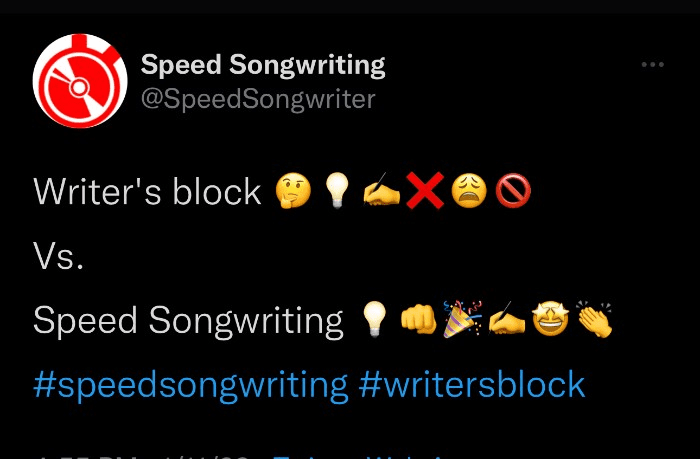 What are the potential ethical issues related to using AI for songwriting?
Along with the many potential benefits of AI, there are ethical issues that should be taken into consideration when using this technology.
Potential ethical issues related to using AI for songwriting include:
Credit and recognition of work – who should receive recognition when AI is used in the composition process?
Intellectual property rights – how should intellectual property be protected when utilizing AI?
Data privacy concerns – what measures should be taken to protect user data?
Potential for plagiarism and hacking – how can authors protect their work from being stolen or manipulated by malicious actors?
Finally, there's the risk of market saturation and commoditization - as mentioned earlier, the generated music must stand out from the rest to remain profitable. However, if too many producers use similar resources and sounds, it can be difficult for an artist to stand out.
All these potential ethical issues should be taken into consideration. However, it's important to remember that AI can be used responsibly.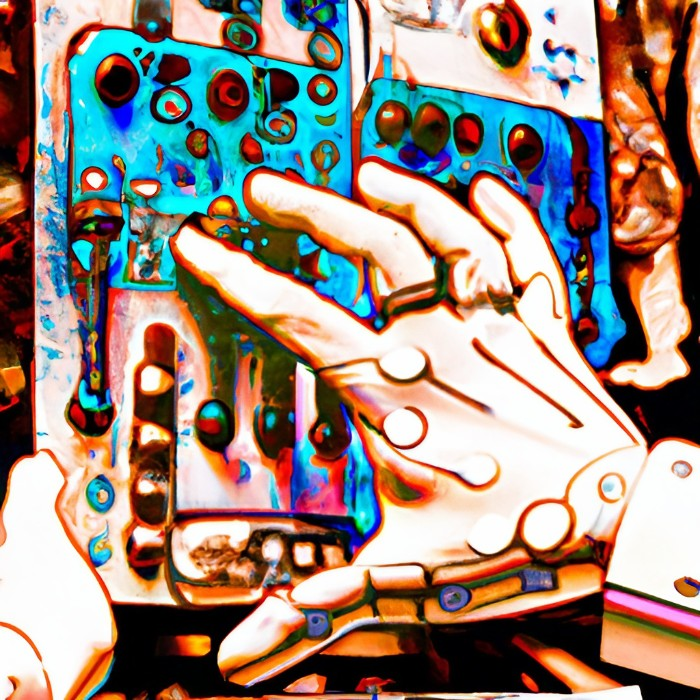 What are the copyright concerns, and how could they be addressed?
Copyright law is an area of particular concern when using AI for songwriting. Authors and producers must understand the legal implications of using this technology in order to protect their rights and avoid any copyright disputes.
Copyright concerns involve questions of ownership and intellectual property. In particular, who should be credited for the work? Researchers have proposed some solutions that could address these copyright concerns, including:
Establishing a joint authorship agreement between the human composer and the AI technology when creating new works.
Implementing digital rights management technologies to ensure that authors can securely protect their works from unauthorized use.
Utilizing blockchain technology to enable secure verification of intellectual property rights and create smart contracts with automatic royalty payments.
Currently, ownership of custom music created with AI depends on the terms of the AI tool. AIVA, for example, grants premium users full ownership of the copyrights. On the other hand, Amper Music is royalty-free on some tiers, but you don't own the copyrights.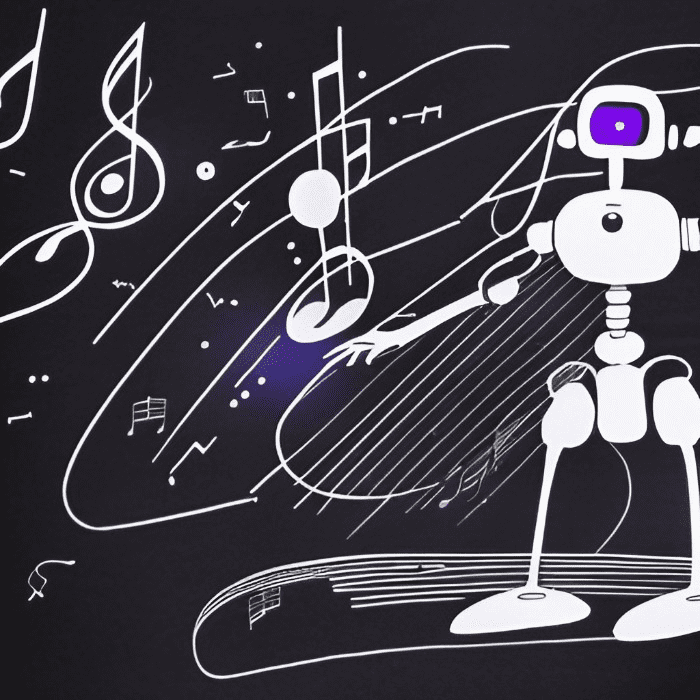 FAQ
What is AI songwriting?
AI is making waves in the music industry as a creative tool.
Writers and musicians can now use AI to "co-write" original song lyrics, eliminating frustrating writer's block or providing helpful inspiration. With these musical AI solutions, original lyrics can be composed with just a few clicks of a button. It is proving to be more than just an efficient way to write lyrics. AI is also a new creative tool for musicians and composers that are eager to revolutionize the way their art is made.
With AI technology's vast capabilities, nothing is stopping us from creating beautiful original compositions using these innovative new tools.
What is AI lyric generation?
AI lyric generation provides an exciting new way to create your own lyrics from given information.
Using advanced deep learning algorithms like Natural Language Processing, machine learning, or a neural network, AI can generate creative and original ideas for lyrical content in a way that sounds and feels familiar. With access to various data sources such as video, audio, images, and language datasets, the neural network model can understand how language works so generated lyrics accurately capture emotion and moods.
Whether starting from scratch or expounding on existing ideas through their own words, AI lyric generation has opened up a wealth of possibilities to produce unique musical pieces.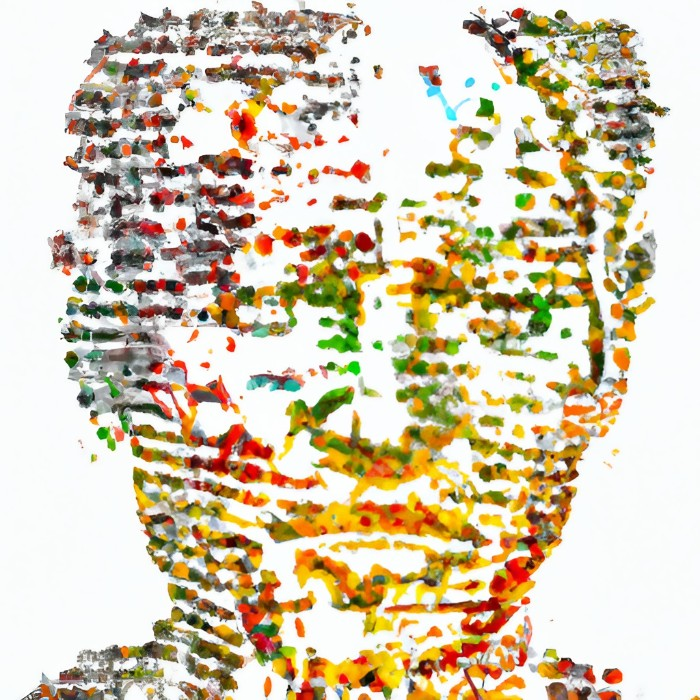 Examples of AI lyric generation in action
AI lyrics generators will construct their own song lyrics in just a few seconds, and here are some results using the following input:
Jasper
Input: I want you to act as a top 10 songwriter. I will give you a song title. You will give me a chorus that repeats the title at the beginning and end of the 4-line section. My first request: Song Title: Firecracker.
Output by Jasper Chat: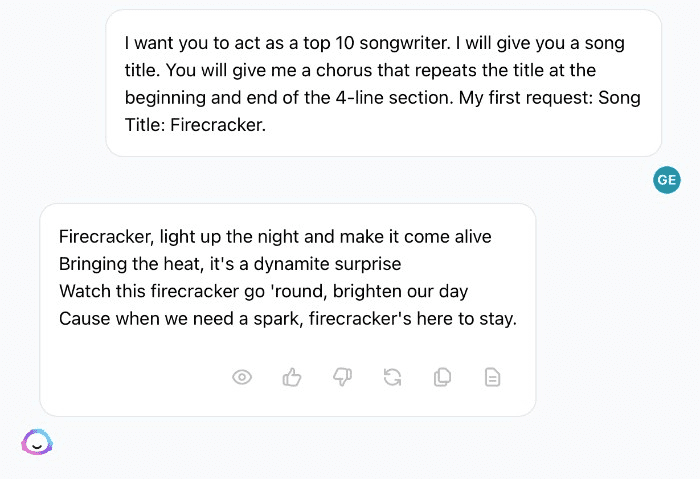 Rytr
Use Case: Song Lyrics
Song Idea: I want you to act as a top 10 songwriter. I will give you a song title. You will give me a chorus that repeats the title at the top and bottom of a 4-line section. My first request: Title: Firecracker
Creativity Level: Max
Tone: Candid
Output by Rytr: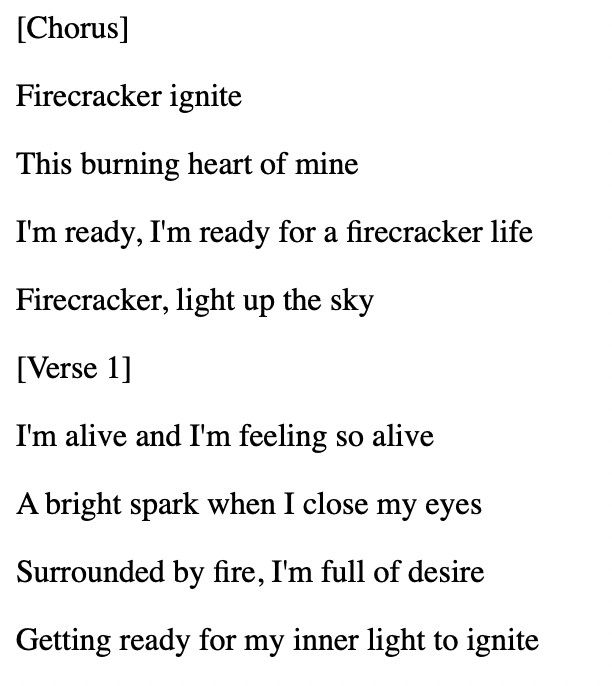 ChatGTP
Input: I want you to act as a top 10 songwriter. I will give you a song title. You will give me a chorus that repeats the title at the beginning and end of the 4-line section. My first request: Song Title: Firecracker.
Output by ChatGTP:
Can anyone write song lyrics with an AI lyrics generator?
Creating songs with AI can be fun and exciting and is an excellent tool for lyricists.
With AI, you can potentially create something genuinely creative even if you don't have the same knowledge of music as others. However, it's important to remember that though AI can be great at helping us produce music, writing a song still requires someone who understands the ins and outs of songwriting to get the very best results.
The fun part is that with these tools in our hands, we can take greater risks and see what kind of unique music we can make.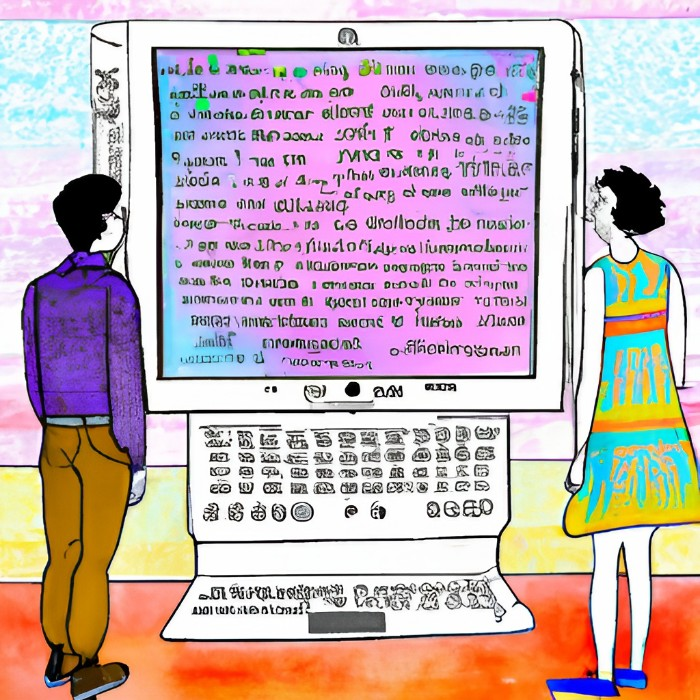 How can I learn to write songs using AI?
Are you looking for a way to unleash your creative potential and produce songs that will leave people in awe? If so, then you need to check out Speed Songwriting With AI.
This unique course shows you how to create songs using AI to help you start and finish songs in a snap. You'll never run out of ideas with this powerful tool at your disposal!
Click here to learn more and get started today!
Can artificial intelligence write music?
AI technology and AI music generators have been making waves in the music industry.
Experienced musicians and emerging artists can use AI-generated music to easily create different genres of music, melody ideas, and lyrics. Tools like AIVA are perfect for anyone seeking to create music and quickly listen to their musical ideas. AI can also save experienced artists time by providing a base upon which they can build using their pre-existing knowledge.
With AI tools now becoming increasingly accessible, anyone looking to create a song should certainly investigate all the possibilities it presents.
How do I find the right AI songwriting tool for me?
Finding the right AI songwriting tool for you can be a daunting task. From a lyricist brainstorming with AI lyrics to a music producer needing an artificially produced guitar lick, many apps have been released into the world.
First, it's important to assess your own needs and skillset:
What genre do you make music in?
How familiar are you with music theory and the process of songwriting?
Are you looking for a simple and user-friendly AI music generator or something more advanced?
Additionally, always make sure to look for an AI music generator that is reliable and secure. Doing your research beforehand will help ensure you find a tool that meets your specific needs.
What's the best AI music program?
Having tried most of them, I can give you my professional opinion inside my Speed Songwriting Toolkit, which is included with my Speed Songwriting With AI training program.
Can AI replace songwriters?
Some people speculate that, as AI technology advances, it could eventually be used to replace humans in certain aspects of the songwriting process. However, humans have many advantages over AI for creating music and melodies, such as understanding context and emotion.
Ultimately, it is likely that AI will simply become a tool that humans can use to help them produce better songs faster.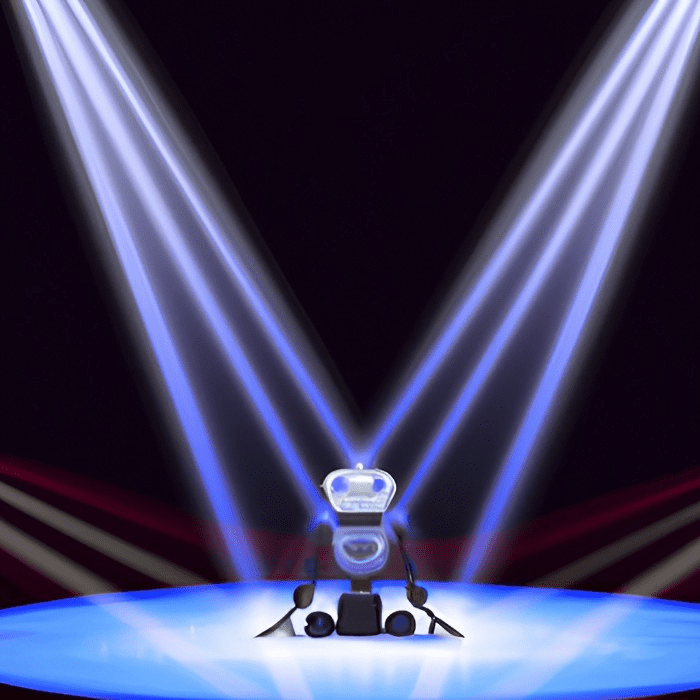 Can AI sing a song?
Yes, it is possible to "deepfake" a voice and sequence to sing melodies. For example, in Seoul, there was a TV series dubbed "AI vs. Human," where experts listened to songs to determine which one was an AI.
Will AI music change the face of popular music?
AI is impacting how people work in many industries, particularly in the music industry.
AI music can now mimic a hit song based on the musical knowledge and musical styles it has been taught. This new technology streamlines music production, creating hit songs more quickly than ever before. It is incredible how this technology can make professional-level AI music with minimal human input.
What are the top 5 AI lyric generators?
A lyrics generator can save you from writer's block and generate fresh ideas. Here are the top 5 AI lyric generators: