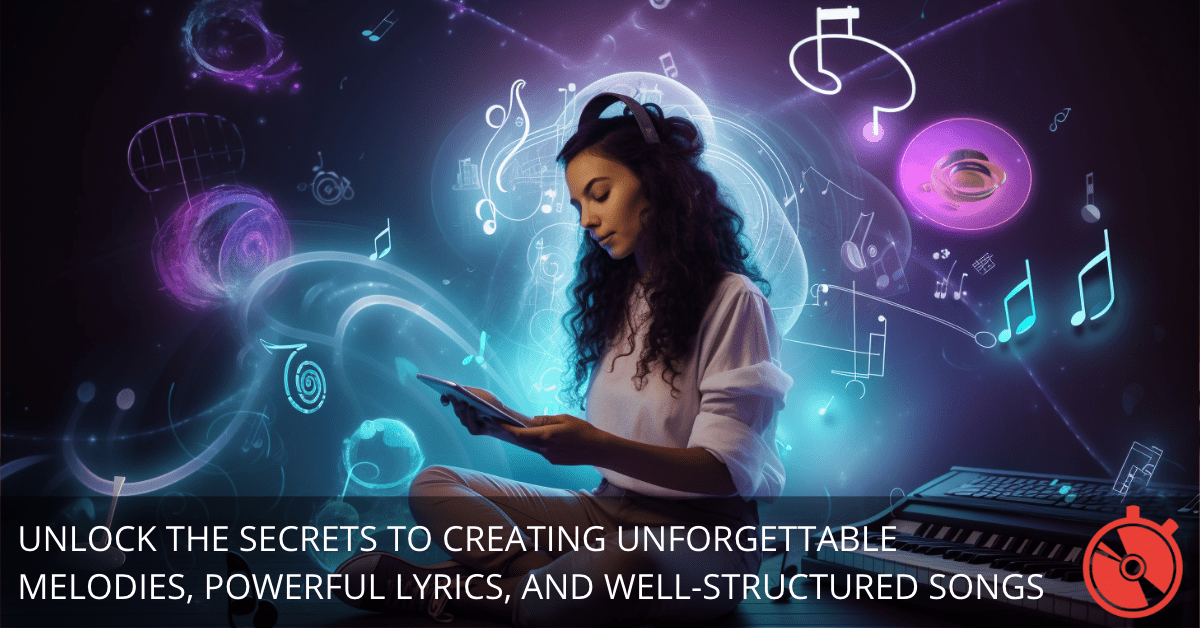 Introduction: The Journey of Songwriting
Welcome to the world of songwriting, where creativity, emotion, and storytelling come together to create musical masterpieces that resonate with listeners.
Writing a song can be both exhilarating and challenging, and sometimes even for a Speed Songwriter, it might take more than an hour to craft the perfect tune.
This article will explore the intricacies of songwriting, its key components, and techniques that can help you hone your songwriting skills.
Part 1: Songwriting Components – Melodies, Lyrics, and Structure
Crafting Captivating Melodies
A melody is the backbone of any song, providing the tune listeners remember and hum along to.
Creating a captivating melody requires a balance of simplicity and originality, ensuring it is easy to remember while still engaging the listener. Experiment with various scales, chord progressions, and rhythmic patterns to find the perfect foundation for your song.
Penning Powerful Lyrics
The lyrics of a song convey its message and evoke emotions in the listener.
To write impactful lyrics, consider using vivid imagery, descriptive language, and relatable themes. Tap into your own experiences and emotions for inspiration, and don't be afraid to revise and refine your lyrics to achieve the desired effect.
Structuring Your Song
A well-structured song enhances its overall flow and coherence.
The most common song structure consists of verses, a chorus, and a bridge, with each section serving a specific purpose. For example, the verse sets the scene and tells the story, the chorus delivers the main message and provides a memorable hook, and the bridge offers a change in perspective or a musical contrast. Experiment with different structures to find the one that best suits your song.
Part 2: The Songwriting Process – From Inspiration to Completion
Finding Inspiration
Inspiration for songwriting can come from various sources, such as personal experiences, emotions, observations, or even other art forms. Keep a journal or notebook to record your ideas and inspirations, and don't be afraid to explore unconventional sources to spark your creativity.
Developing Your Ideas
Once you have an idea, it's time to develop it into a complete song. Start by expanding on your initial concept, fleshing out the story, and creating a rough outline of the song structure. Experiment with different melodies, chord progressions, and rhythms to find the best musical accompaniment for your lyrics.
Refining and Polishing Your Song
After you've developed your song, revising and polishing it to perfection is crucial. This process may involve rewriting lyrics, adjusting melodies, or altering the song structure. Don't be afraid to make significant changes if they enhance the song's overall quality.
Collaborating with Others
Songwriting can be collaborative, with multiple individuals contributing ideas and expertise. Collaborating with others can lead to fresh perspectives and innovative ideas, resulting in a more compelling and well-rounded song.
Part 3: Tips for Enhancing Your Songwriting Skills
Study the Greats
To improve as a songwriter, it's essential to study the work of successful artists and analyze what makes their songs effective. Listen to a wide range of music and dissect the components, such as melodies, lyrics, and structure, to learn from their techniques and apply them to your own work.
Practice Regularly
Like any skill, songwriting improves with practice. So set aside dedicated time for writing, and challenge yourself to complete songs or write in new styles or genres. The more you practice, the more you will develop your abilities and refine your unique voice.
Embrace Feedback and Criticism
Constructive feedback and criticism are invaluable tools for growth. Share your work with others, and be open to their opinions and suggestions. Use the feedback to identify areas for improvement and continue refining your craft.
Learn Music Theory
While not essential, understanding music theory can provide a solid foundation for your songwriting. Familiarize yourself with concepts such as scales, chords, and harmony to enhance your ability to create compelling melodies and chord progressions.
Be Patient and Persevere
Songwriting is a process that often takes time and dedication. Don't be discouraged if your initial attempts don't yield the desired results. Instead, continue refining your skills, experimenting with new ideas, and learning from your experiences.
With perseverance, you will eventually craft songs that resonate with listeners and stand the test of time.
Part 4: Diagram – The Songwriting Process
Here's a simple diagram illustrating the stages of the songwriting process:
graph LR A(Finding Inspiration) --> B(Developing Your Ideas) B --> C(Refining and Polishing Your Song) C --> D(Collaborating with Others) D --> E(Enhancing Your Songwriting Skills)
Conclusion: The Rewarding Art of Songwriting
Songwriting is an art form that combines creativity, emotion, and storytelling to create musical masterpieces.
Even though it may take more than an hour to write a song sometimes, the process is rewarding and fulfilling, allowing you to express yourself and connect with listeners on a profound level.
You can create captivating and memorable songs that will stand the test of time by understanding the components of songwriting, refining your skills, and persevering through challenges.