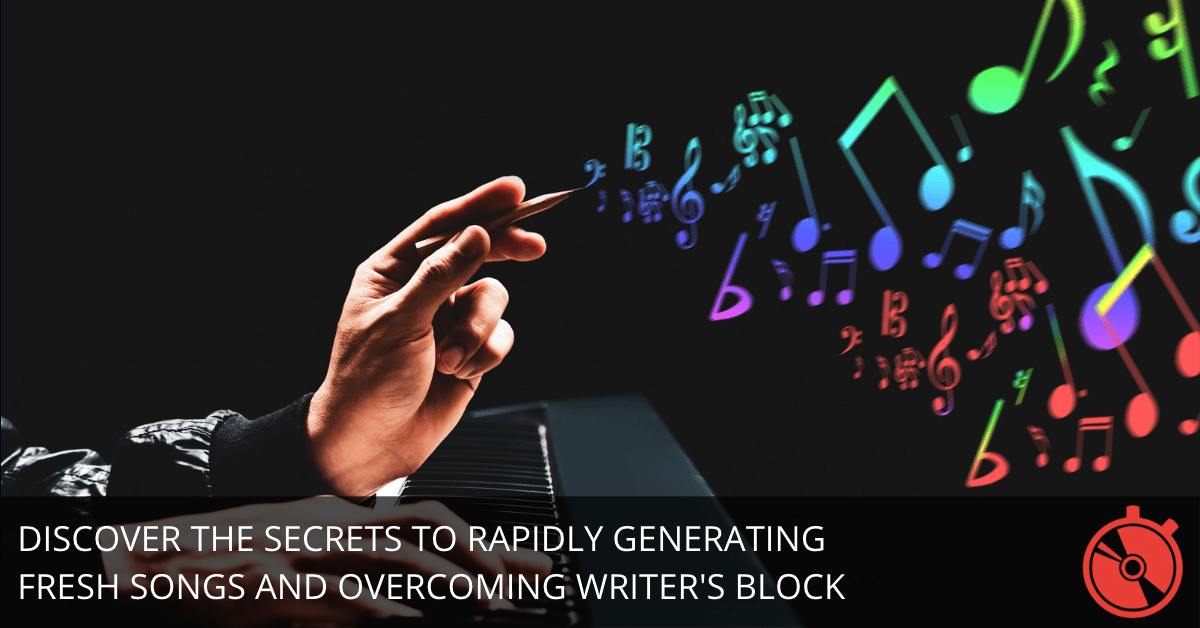 Songwriting is a craft that requires patience and creativity.
But sometimes, the creative juices just don't flow as freely as we'd like.
That's where Speed Songwriting comes into play.
This comprehensive guide explores the numerous benefits of Speed Songwriting, provide practical tips to help you get started, and even delves into advanced techniques to supercharge your songwriting process.
Table of Contents
Introduction to Speed Songwriting
Speed Songwriting is a method that encourages songwriters to rapidly create new material without overthinking or getting bogged down in the details. By following a songwriting system and allowing your mind and pen (or keyboard) to move quickly, you can unlock new ideas and creative pathways that might have remained hidden otherwise.
Why Speed Songwriting Matters
Boosts Creativity
Speed Songwriting encourages you to let go of your inner critic and embrace a more structured creative process to find the flow. This can lead to discovering unique ideas and musical structures you might not have stumbled upon otherwise.
Overcomes Writer's Block
Speed Songwriting can help you break through mental barriers and overcome writer's block by focusing on speed and quantity rather than perfection. This can be particularly helpful for songwriters who struggle with self-doubt or the dreaded "blank page syndrome."
Enhances Songwriting Skills
Regular Speed Songwriting practice can help you develop a deeper understanding of song structure, melody, and harmony. As you become more comfortable with the process, you'll find that your songwriting skills and instincts improve across the board.
Mastering the Basics of Speed Songwriting
Set a Timer
Choose a specific amount of time, such as 15 or 30 minutes, and commit to writing non-stop for the entire duration. This time constraint forces you to focus on the creative process and discourages overthinking or self-editing.
Embrace Imperfection
Remind yourself that the goal of Speed Songwriting is not to create a polished, finished product but to finish a first draft and push your creative boundaries. Embrace the imperfections and trust that you can refine your work later.
Embrace the 7 Steps of the Speed Songwriting System
Master the art of efficient and creative songwriting by following the 7 steps outlined in the Speed Songwriting System. Following a songwriting system streamlines the creative process, enabling you to consistently produce high-quality songs with greater efficiency and inspiration.
Advanced Speed Songwriting Techniques
Explore new creative horizons with these advanced speed songwriting techniques designed to elevate your craft:
Song Plots
Song plots are outlines that provide your song sections with a basic premise, allowing you to flesh out your lyrics more effectively. This method helps maintain coherence throughout your song and ensures a more engaging storytelling experience for the listener.

The Melodic Rhythm Method
With the Melodic Rhythm Method, prioritize the rhythmic pattern of your melody before selecting the notes. This technique encourages you to focus on the natural flow and groove of your song, resulting in more memorable and emotionally resonant melodies.
Finding Flow
Achieving a flow state, or being "in the zone," allows you to experience heightened focus, complete absorption, and optimal performance in your songwriting. You can unlock your full creative potential by cultivating a flow state, leading to more inspired and innovative musical ideas.

Incorporating Speed Songwriting into Your Daily Routine
Schedule Regular Sessions
Consistency is key when it comes to reaping the benefits of Speed Songwriting. Set aside specific times during the week for songwriting sessions, and treat them as non-negotiable appointments with your creativity.
Reflect on Your Progress
After each Speed Songwriting session, take a few minutes to review your work and reflect on the experience. This can help you identify patterns, strengths, and areas for improvement and track your growth as a songwriter over time.
Collaborate with Others
Invite fellow songwriters to join you in Speed Songwriting sessions. Collaborating with others can provide fresh perspectives, spark new ideas, and create a sense of camaraderie and accountability that can help keep you motivated.
Conclusion
Speed Songwriting is a powerful tool that can help unlock new levels of creativity, overcome writer's block, and refine your songwriting skills. By incorporating Speed Songwriting techniques into your daily routine and embracing the spirit of exploration and imperfection, you can elevate your craft and tap into a wellspring of musical inspiration.
No matter your experience level or preferred genre, Speed Songwriting can be a game-changer for your songwriting journey. So why wait? Grab your instrument, set a timer, and dive into the world of Speed Songwriting today.