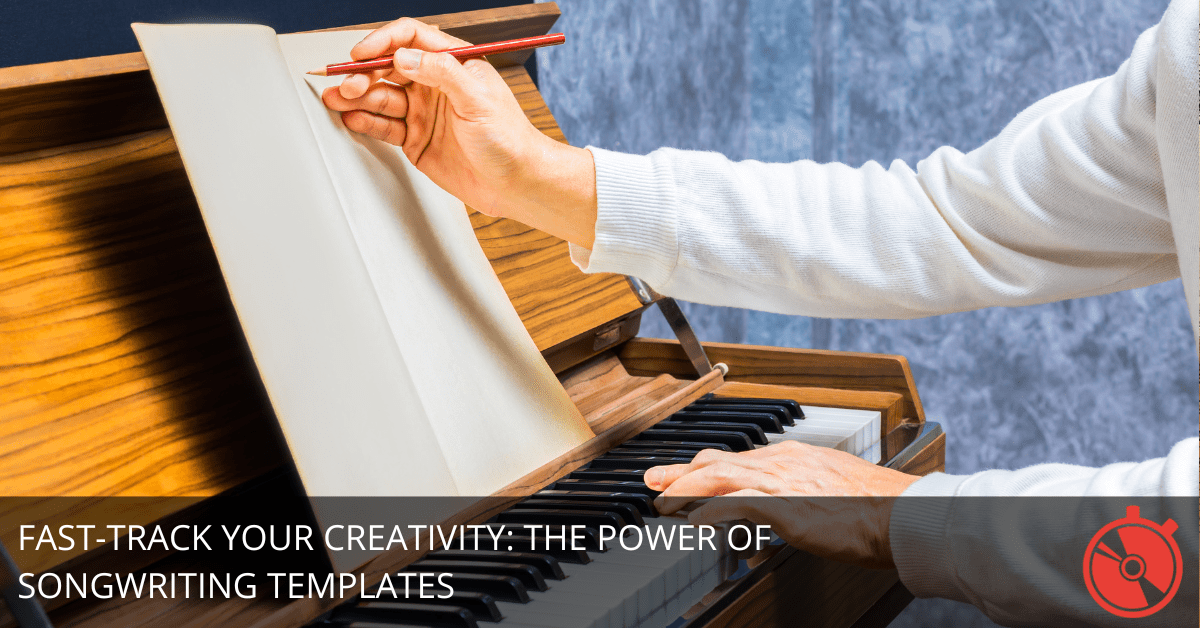 Ah, the life of a songwriter.
One minute, you're basking in the glory of a killer chorus. The next? Staring at a blank sheet, the melody in your head refusing to make friends with the words.
But, folks, what if I told you there's a way to speed up this romance? A way to make melodies and lyrics go on their first date, with no awkward silences.
Enter: songwriting templates!
What the Heck are Song Writing Templates?
Well, remember those paint-by-numbers kits? The ones where you just filled in colors and somehow Picasso-ed your way into a masterpiece?
Songwriting templates are kinda like that. They've been the secret sauce in other creative industries for eons, giving everyone from writers to architects a head start.
Templates are essentially cheat codes. And before you gasp in horror, remember the last time you used a cheat code in a video game? Fun, wasn't it? Templates give your song structure, a rhythm, a pulse. They're not about boxing you in but rather giving you a springboard to dive deep into your creativity.
Why the Obsession with Templates?
Speed, Baby, Speed! – Why spend hours fighting with a stubborn chorus when you could be jamming out to a finished tune?
A Guiding Light – They're like a trusty compass in the wild jungle of your mind. With a template, you know the direction.
Adios, Songwriter's Block! – That dreaded block doesn't stand a chance against a sturdy template.
Playground for Your Muse – Here's a secret: Constraints can actually make you more creative. It's like giving a kid a sandbox. Sure, there are boundaries, but oh, the castles they can build!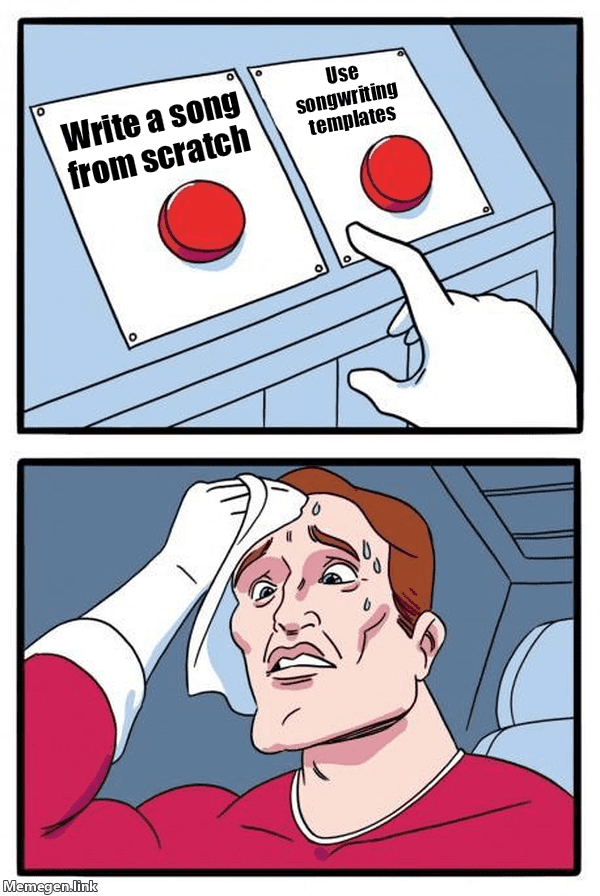 Real Examples to Feast Your Ears On
Classic structures? We've got 'em. Popular chord progressions? You betcha.
Verse-Chorus-Verse-Chorus-Bridge-Chorus – Sounds robotic? Maybe. But ever heard of the Beatles? Yeah, they were fans.
Popular Chord Progressions – The I–V–vi–IV. If it sounds Latin, that's because it's ancient. And timeless. This progression has danced through countless hits.
Lyrical Templates – Whether you're penning the next tear-jerker or a foot-stomping party anthem, there's a template for that. But please... not another song about rain. Unless it's raining cats in heat. Now, that's a twist.
Pitfalls & How to Dodge 'Em
Templates are the bee's knees, but they're not without their quirks:
Don't Become a Robot – Templates are guides, not gods. Don't worship them.
Infuse YOU – Your grandma's secret ingredient in her famous pie? Love. Similarly, your secret ingredient in songwriting? YOU.
KISS (Keep It Super Simple) – Overcomplicating is like adding too much salt. Ruins the taste.
Remember, It's Just a Starting Point – Like the starter's pistol at a race. You gotta run the rest.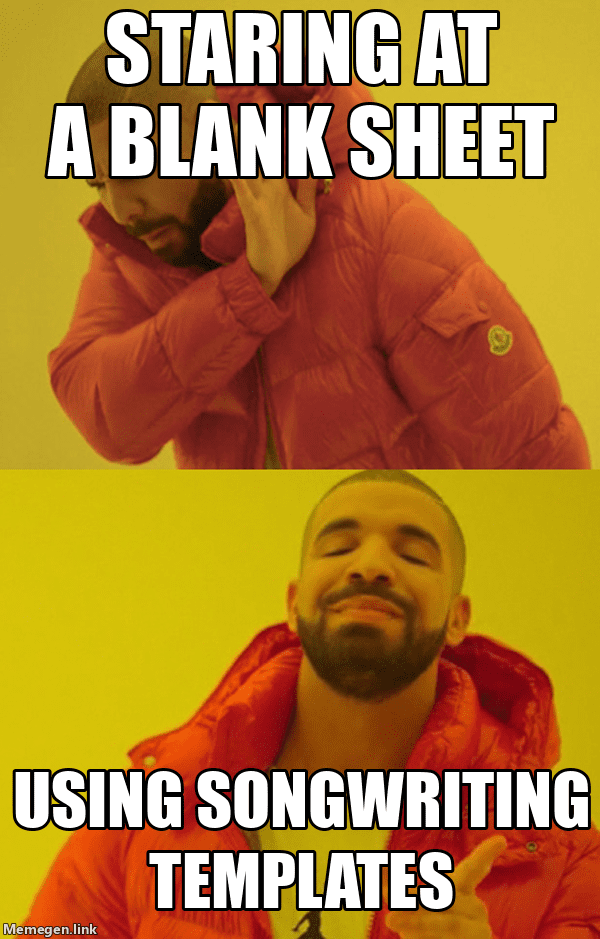 Tips to Get Your Groove On
Alright, my friend, ready to rock the template world?
Rogue it Up – Start with the template, then jazz it up. Make it dance to your tune.
Real Stories, Real Hits – The world doesn't need another generic love song. But your story about love, loss, or that time you mistook superglue for lip balm? Gold.
Challenges = Fun – Use songwriting challenges to kick things into high gear.
Two Heads > One – Collaborate. Mix, match, merge. Create sonic wonders.
What's Next in the Template Universe?
So, where are we heading? Will AI write our future hits? Maybe. But remember, no machine can replicate human emotions. Yet. 😜
Customized templates? The future's bright and personalized. Imagine a template that vibes with your mood, your style, your quirks. It's not sci-fi. It's the future.
Wrapping It Up
Templates. They're not about taking shortcuts but about starting your journey with a map. They're the unsung heroes behind many chart-toppers. So, why not give 'em a shot? Dive in, play around, make mistakes, and create magic. And if you stumble upon a Godzilla of a pickle, remember, every challenge is just a mountain of opportunity in a funky costume.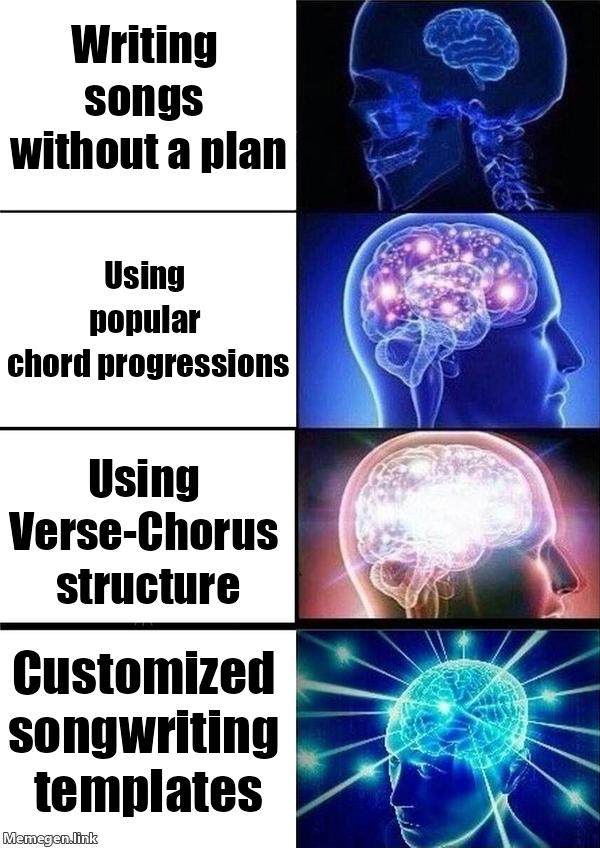 ---
FAQs
Aren't templates just for those who can't be original?

Nope! They're tools. Like a guitar. It's all about how you play it.

Will using templates make my songs sound generic?

Only if you let them. Add your twist, and you're golden.

Can I mix different templates?

Hell yeah! It's like mixing chocolate and peanut butter. Delicious outcomes.

I've never written a song. Is this a good place to start?

Absolutely! It's like training wheels for songwriting. Soon, you'll be cycling without 'em.

What if I'm stuck, even with a template?

Take a break. Go for a walk. Listen to the birds. Inspiration's everywhere.