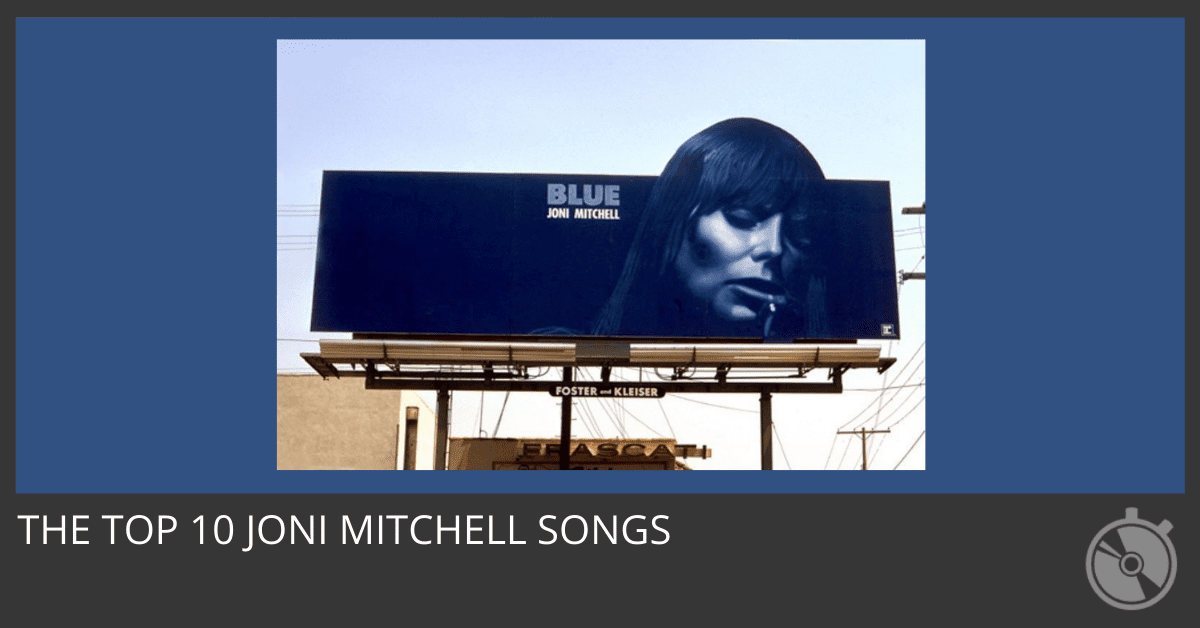 Joni Mitchell is a singer-songwriter who has achieved great success over the years, both critically and commercially. Her music is often described as folk-rock, and she has been praised for her poetic lyrics and unique voice. These are some of her most popular and well-loved songs.
10. Big Yellow Taxi
By this song, Joni Mitchell makes us think about deforestation with its opening line, "They paved paradise/And put up a parking lot." The dismissive tone in which it was written was meant to make light of the situation. Still, listeners quickly picked up on the message of environmental conservation contained within the lyrics. Its catchy tune also made it an easy hit for radio airplay. This song only reached #68 on the Billboard Hot 100 chart, but it is still an important song in her catalog.
9. Free Man In Paris
This song is unique because she does not appear to be the main focus of the lyrics. Instead, the narrator here is a man who seems to be in charge, always making money and having fun. While this could be about Mitchell's then-husband (and jazz musician) Larry Klein, it may also refer to her manager at that time or even to the music industry in general. This is an amusing song with innuendo that could be applied to many different situations, which is probably why it became one of her most popular songs.
8. Woodstock
Written around the time of the famous music festival, this song has become a classic. It is included on Crosby, Stills, Nash & Young's album Déjà Vu, where it was initially intended to be performed. However, Joni Mitchell was against that idea and decided to record it herself. It is one of the many songs on this list where her vocals shine. A genuinely brilliant song!
7. The Circle Game
Recorded as part of her album Ladies of the Canyon, this song deals with the issues surrounding childhood and innocence lost. It is also often interpreted as being about growing up and getting swept away by adulthood's problems, such as the quick passage of time. There are some very clever lyrics and rhymes here: "Then the child moved ten times round the seasons/Skated over ten clear frozen streams/Words like, "When you're older" must appease him/And promises of someday make his dreams."
6. River
In an afternoon, Joni Mitchell wrote this song, which she dedicated to her friend and fellow musician Chuck E. Weiss. It is about freedom and growing old – two themes that run throughout her discography. In the 1974 TV special A Woman Of Heart And Mind, Mitchell explains how "the river" can be seen as a metaphorical reference for time passing: "We go from being children… to being parents… from being friends to being lovers… We all know that we're going back into the river again."
5. A Case Of You
Perhaps the most beautiful love song ever written by Joni Mitchell is this one, found on her 1971 album Blue. To simply call it a love song does not do it justice, though: "Oh, but you are in my blood/You're my holy wine/You're so bitter/Bitter and so sweet/Oh, I could drink a case of you, darling/Still I'd be on my feet/I would still be on my feet." The lyrics speak for themselves and are sung beautifully as well. This song easily lands itself in the top 10 Joni Mitchell songs.
4. Help Me
This song is not about asking for help in a literal sense, but rather it is about love. A love that hurts and consumes the person giving it so much that they cannot think straight. Mitchell herself admits to writing this while drunk, which could explain the intensity of the lyrics: "Help me, I think I'm fallin' in love too fast/It's got me hopin' for the future and worryin' about the past/'Cause I've seen some hot, hot blazes come down to smoke and ash/We love our lovin' (lovin')/But not like we love our freedom." The time signature changes add to the uncertainty of the message.
3. Chelsea Morning
"Chelsea Morning" is a breezy song, the type that one can easily sway to. The opening lines of this song are some of the best ever in a Joni Mitchell tune: "Woke up, it was a Chelsea morning/And the first thing that I heard/Was a song outside my window/And the traffic wrote the words/It came ringing up like Christmas bells/And rapping up like pipes and drums." The song is described as being about "friends, children, love, dreams." It truly deserves its place among the top 10 Joni Mitchell songs.
2. Both Sides Now
This song is perhaps the most iconic on this list, having been covered by dozens of other artists since it was first released. It was written by Mitchell herself in 1967, but she didn't record it until two years later for her album Clouds. It is about the uncertainty of life and accepting its changes as they come. Mitchell herself said that she wrote it at a time when America was involved in the Vietnam war, although she did once describe it as being about "the duality of human nature." When Mitchell first heard Judy Collins' version years later, she was so moved by it that she cried for two days straight.
1. All I Want
Released on 1971's album Blue, this is one of Joni Mitchell's most personal songs about not fitting into life with someone else, but instead wanting to be on your own: "I am on a lonely road, and I am traveling/Traveling, traveling, traveling/Looking for something, what can it be/Oh I hate you some, I hate you some, I love you some/Oh I love you when I forget about me." From Joni's footnotes: "But I don't know what to say about it. It's funny how people keep looking between the lines of songs to see what is hidden there. Well, I'm not an evasive writer. You don't have to dig under the words for the meaning. The meaning is all there. It's very plain-speak." However, I think her fans will agree that there is nothing "plain" about Joni Mitchell's lyrics.
Joni Mitchell is truly a master of songwriting. These are just 10 of her incredible songs that I have put together for you here. Hejira, Shadows and Light, Miles of Aisles, Mingus, these albums are great with absolutely amazing bands! I hope you get lost in her music as much as I have.
Do you have any other favorites? Let me know in the comments below!
Thank you for reading! If you enjoyed it, please remember to share it!