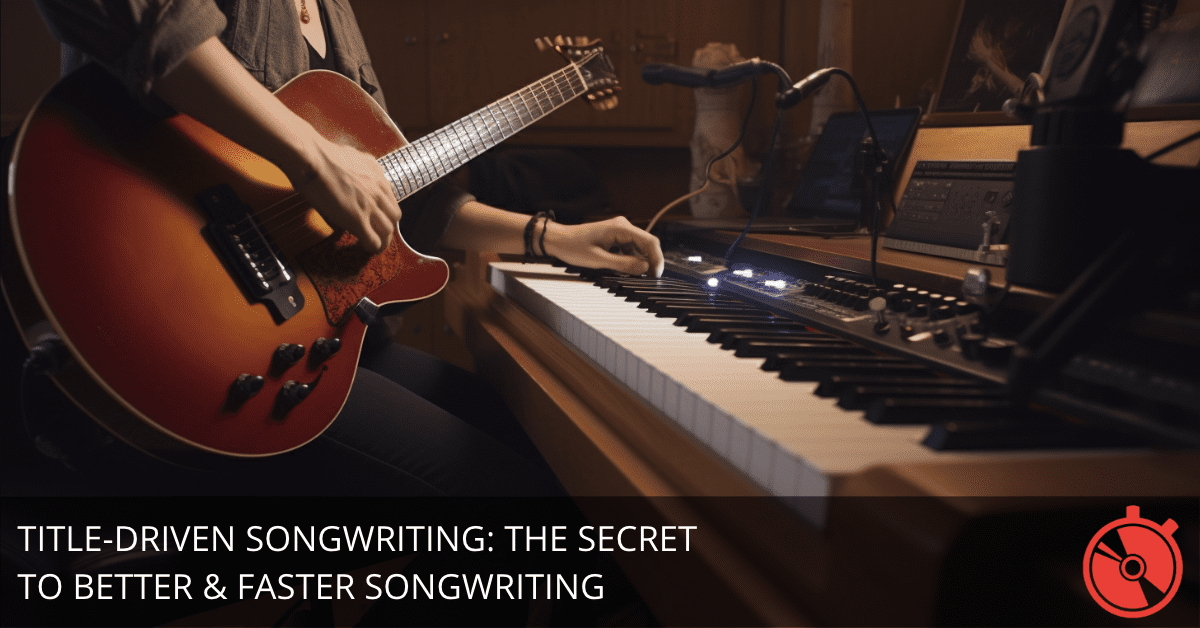 Introduction
When it comes to songwriting, starting with a title can make all the difference in the world.
The title sets the tone, provides a clear direction, and can even inspire the entire songwriting process.
In this article, we'll explore the benefits of writing from a title, how to find inspiration and practical tips for crafting a song that will resonate with your audience.
Why Writing from a Title Is So Effective
Instant Direction and Focus
Beginning with a title offers an immediate sense of direction, which helps to focus your creativity and streamline the songwriting process. With a clear starting point, you can quickly develop ideas, themes, and narratives that support the title, ensuring a cohesive and well-rounded song.
Emotional Impact and Connection
A compelling title can evoke strong emotions and create a lasting connection with your audience. Focusing on a powerful title can more easily convey the emotions and experiences you want your listeners to feel, ensuring a memorable and impactful song.
Consistency and Coherence
Writing from a title helps to ensure your lyrics, melody, and overall structure are consistent and coherent. In addition, by using the title as your anchor, you can maintain a strong thematic connection throughout the song, making it more memorable and engaging for your audience.
Finding Inspiration for Your Song Titles
Look to Your Own Experiences
Your own life experiences are a treasure trove of inspiration. Reflect on your past and present, and consider the events, emotions, and relationships that have shaped you. By tapping into your personal experiences, you can create authentic and relatable song titles that resonate with your audience.
Explore the World Around You
Pay close attention to the world around you and take note of interesting phrases, quotes, or conversations that spark your creativity. Inspiration can be found everywhere, from a newspaper headline to an overheard coffee shop conversation.
Tap into Your Emotions
Allow your emotions to guide your song title selection. Focus on a particular emotion or feeling, and brainstorm words, phrases, or ideas that embody that emotion. By connecting with your own emotions, you can create a song title that will evoke a strong emotional response from your listeners.
Essential Guides for Crafting Winning Song Titles
Tips for Writing a Song from a Title
1. Develop a Story or Narrative
Once you have your title, begin crafting a story or narrative supporting the title's theme. Consider the characters, setting, and events that will unfold in your song, and create a vivid and engaging storyline your audience can connect with.
Further Reading on Story Songwriting
2. Create a Strong Chorus
The chorus is often the most memorable part of a song, so make sure it's catchy, melodic, and supports the title. In addition, your chorus should be the emotional and thematic anchor of the song, tying everything together and leaving a lasting impression on your listeners.
Read more: Songwriting Tips: Creating a Catchy Chorus
3. Vary Your Verse Structure
Experiment with different verse structures and lengths to keep your song interesting and dynamic. This will help to create contrast, maintain your audience's interest, and ensure your song doesn't become monotonous or repetitive.
4. Incorporate Imagery and Sensory Details
Use vivid imagery and sensory details in your lyrics to create a rich, immersive experience for your listeners. By painting a vivid picture with your words, you can transport your audience into the world of your song and create a deeper emotional connection.
Enhance your lyric writing by exploring sensory details in my guide: The Lyric Triad
5. Revise and Refine Your Lyrics
Don't be afraid to revise and refine your lyrics as you go. Songwriting is a process, and it's important to continually evaluate your work and make improvements where necessary. Refining your lyrics ensures your song is polished, powerful, and resonates with your audience.
The Role of Melody and Harmony in Supporting Your Title
Crafting a Memorable Melody
A memorable melody is crucial for a successful song. Your melody should complement the title and support the overall theme of your song. Experiment with different melodic shapes, rhythms, and intervals to create a melody that is engaging, unique, and captures the essence of your title.
Unlock the secrets to crafting unforgettable melodies that captivate your listeners: Mastering the Art of Writing Exceptional Song Melodies
Building a Harmonic Foundation
The harmony of your song plays a significant role in enhancing the emotional impact of your title. Choose chord progressions that reflect the mood and sentiment of your title, and experiment with different harmonic structures to create a rich and captivating soundscape.
Final Thoughts
Writing from a title is an incredibly effective way to approach songwriting. By starting with a compelling title, you can create songs that are focused, emotionally impactful, and resonate with your audience.
Use the tips and strategies outlined in this article to craft powerful and unforgettable songs that will stand out from the crowd.
graph LR A[Start with a Title] --> B[Develop a Story or Narrative] B --> C[Create a Strong Chorus] B --> D[Vary Your Verse Structure] B --> E[Incorporate Imagery and Sensory Details] C --> F[Craft a Memorable Melody] D --> F E --> F F --> G[Build a Harmonic Foundation] G --> H[Revise and Refine Your Lyrics] H --> I[Successful Song]
In summary, starting with a title directs and focuses your songwriting process. Following this article's steps, you can create a powerful and engaging song that will captivate your audience.